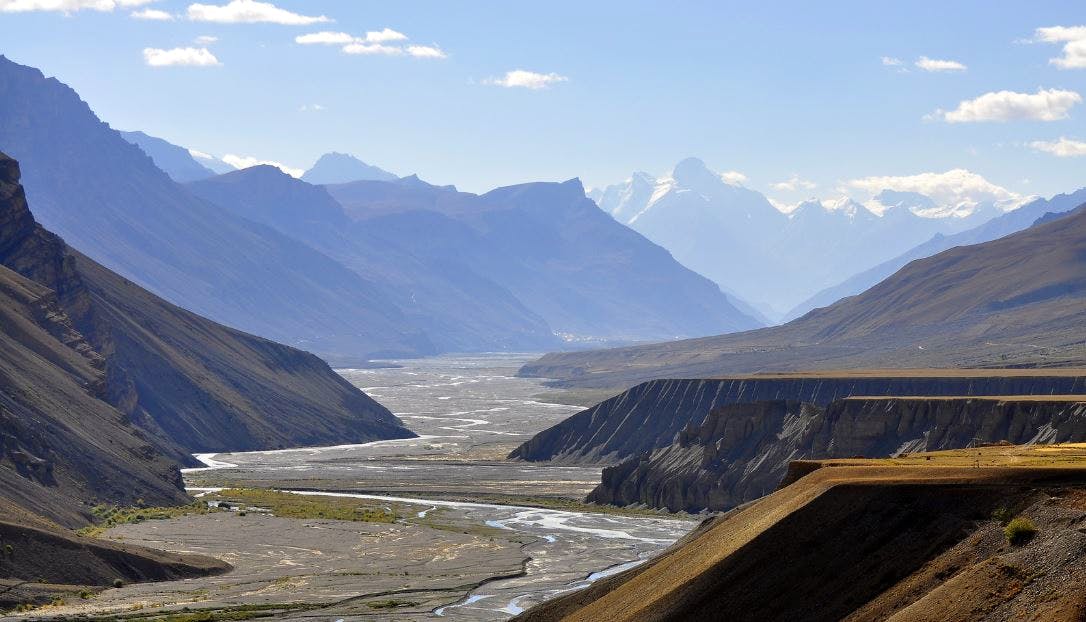 Lahaul & Spiti On Your Mind? This Guide Will Come Handy
If you've been wanting to head to Lahaul and Spiti for the longest time, we guess, it's the time for you to tick it off from your bucket list. One of the least populated districts in India, Lahaul and Spiti is quite famous for its notorious roads, ancient monasteries, flora and fauna, and of course, for its scenic beauty.
Now, if you are wondering how to reach, what to do, where to stay, and eat, then don't you worry, we've got you covered! Make sure to keep this guide right by your side until you get those bookings done (for motivational purposes, obviously).
How To Reach
Well, unlike Leh and Ladakh, Spiti Valley does not have a good connectivity but, of course, that should not definitely stop you from heading to this heaven. There are two routes to reach Lahaul and Spiti, one via Manali, and other via Shimla.
There are no direct buses or flights to this district and hence, you will be required to break your journey in two parts. If you wish to travel via Manali, take a direct bus and once you reach Manali, you could rent out a vehicle or take a taxi and head to Kaza (HQ of Spiti Valley). Only take this route if you have ample time with you; though it's a five hour-long journey but, you'll be crossing Rohtang Pass where you'll notice long queues for permit checks (you need to obtain it online before heading to Kaza), or you might find yourself stuck in traffic jam (people also take that route to head to Leh and Ladakh).
Also, let us tell you that the roads here are terrible, so ONLY take the route if you are up for the challenge.
If you plan to take the Shimla route, then you could take a direct bus from Delhi and rent out a vehicle or hire a taxi to reach Kaza. Though, it's a longer route. You will take around 11 hours from Shimla to reach Kaza but, you won't need any permits, plus smoother roads, and less traffic. Also, another good point is, on this route, height gradually increases and therefore, there are less chances of Acute Mountain Sickness.
Check out the link below to obtain a permit.
Where To Stay
If you are looking to find a place in Kaza, you'll find plenty of options. Firstly, we highly recommend staying in Zostel, although, you will have to book it in advance (at least three-four months prior) as it gets occupied very quickly. Or else, you could stay at Hotel Sakya Abode, Hotel Deyzor, and Hotel Snow Lion among many others.
If you want to stay in Tabo: Kunzum Guest House, Tow Dhey Guest House, or PWD Rest House (if on a tight budget) are some great options.
You can check out places in Mudh Village like Tara Guest House and Pin Parvati Guest House if you want to stay in Pin Valley.
Things To Do
There are a lot of things to do in Lahaul and Spiti. In the end, it all depends on the number of days you can spare from your daily routine. Below are some of the things that you should definitely experience:
- Do visit monasteries (Key Monastery, Kungri Monastery, Kardang Monastery, Gue Mummy Stupa, Tabo Gompa)
- Chandratal Lake: This beauty, also known as Moon Lake, is something that you should not definitely miss. You could reach the lake from both Manali and Shimla but make sure to plan your day in advance when you decide to visit Chandratal. Once you reach the parking spot near Chandratal, you'll have to trek for about 1.5kms to reach the lake. Also, if you are planning to stay there, camping is not allowed near to the lake, however, there are camping sites at the parking spot. There are Parasol Camps (contact Bishan: +91 9418845817) or Tenzin Camps ( contact Tenzin: +91-8991722020).
- Dhankar Lake: Situated above Dhankar Monastery, you will have to take a steep trek of about 45 minutes to reach the lake. While the trek could be challenging, the view that you will witness once you reach will surely make up for it.
- Kaza Market: Once you are in Kaza, it's quite unfair to leave without a souvenir. With a number of shops selling Tibetan and Buddhist handicrafts, there are innumerable things that you could buy from this famous market.
- Kunzum La: Gateway that leads to Lahaul and Spiti Valleys; Kunzum Pass stands at a height of 4,551 metres above the sea level. It is quite popular among the tourists because of the picturesque views that it has to offer plus, it also comes in the way that leads to Chandratal Lake. However, there are no tourist facilities available at the pass, you'll have to head to the nearest village called Losar for accommodation or food.
Where To Eat
So, there are plenty of options you could choose from. We've picked out some of the best ones for you:
- Sol Cafe: Located in Kaza, this pretty cafe is run by the volunteers of Ecosphere. It is one of the most popular cafes in the area and offers herbal teas, french toast, waffles, and whole wheat baked goods.
- Nordaling Restaurant: Located in Keylong, this garden-restaurant has a lot to offer. You can get fresh-pressed fruit juices and once you are here, definitely try their thukpa.
- A Taste of Spiti: Located in Kaza, this cafe mixes local ingredients of Spiti with international ingredients. You could try their Spitian Burger, Seabuckthorne Juice, or vegetable momos - trust us, everything is delicious.
- Cafe Zomsa: Also located in Kaza, it's a multi-cuisine restaurant that offers everything from thai curry and falafel, to peri-peri chicken. They also organise live music nights. So, maybe watch out for those?
Things To Remember
- Always make sure to keep enough cash. There are hardly any ATMs in the district hence, some extra thousands shouldn't matter.
- Make sure to check the temperature and road conditions before you go. The sun is too harsh and same goes for colder days. So, pack a good sunscreen and enough warm clothes.
- Of course, the mobile network connectivity is bad. Once you reach Kaza, you will notice that only BSNL works there (that too only in Kaza) so, be prepared to spend some time without social media. We feel, it won't be hard.
- If you are taking your own vehicle or renting out, always carry extra fuel.
- Lastly, keep yourself hydrated and listen to your body specially if you are riding or driving. Put a cap on the number of kilometres you would want to cover in a day. If you plan to reach Kaza via Manali route, you might face Acute Mountain Sickness as the height increases at a fast pace and your body won't get enough time to acclimatise.
Comments