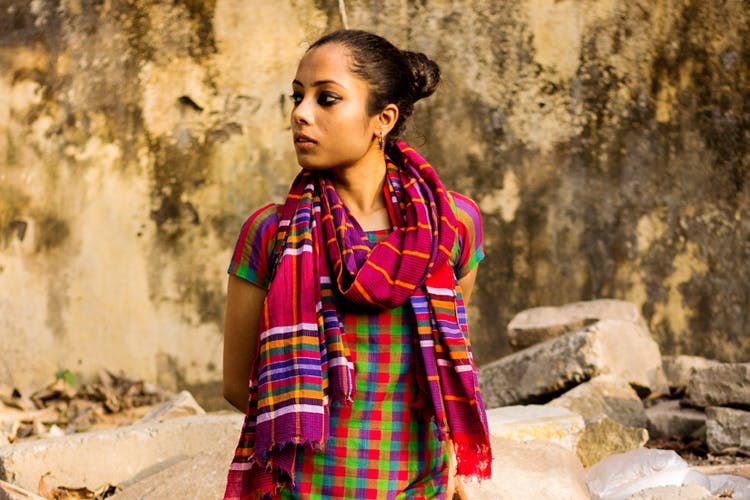 The Humble Gamcha Gets A Quirky Upgrade With Tri
Shortcut
Tri is an upcoming Kolkata-based brand that features dresses, hair accessories, notebooks, and scarves handcrafted completely out of Bangladeshi gamcha, for anyone looking to spice up their wardrobes this season.
Gamcha Bags, Earrings, And More
A simple scarf gifted to a friend that snowballed into a small brand, Tri became a reality when it launched on Facebook in 2016 by Tri Paul. Gamcha is a coarse cloth generally used as a towel, or for cleaning the floors, and Tri has innovatively converted the same cloth into fashion apparel and more.
Everything is custom-made by local tailors, and is made to order. It's affordable, hand-made, and eye catching.
Why We Love It
Tri is minimalist and fashionable rolled into one. Ordinary and otherwise dejected, the plain gamcha is turned into beautiful Bong-style blouses, kaftan dresses, hair accessories and even kamar-bandhs to wear and flaunt.
Colours are sober, with pastel hues and check prints. Our favourite picks are the gorgeous gamcha covered notebooks and the breezy blue kaftan dress.
#LBBTip: We advise you to call Tri for placing orders, as she is open to shipping pan-India. There's a standard delivery charge depending on the city.
Where: You can place your orders via Facebook here.
Price: Notebooks for INR 250, kaftan dresses for INR 700
Contact: +91 9932038201
Comments