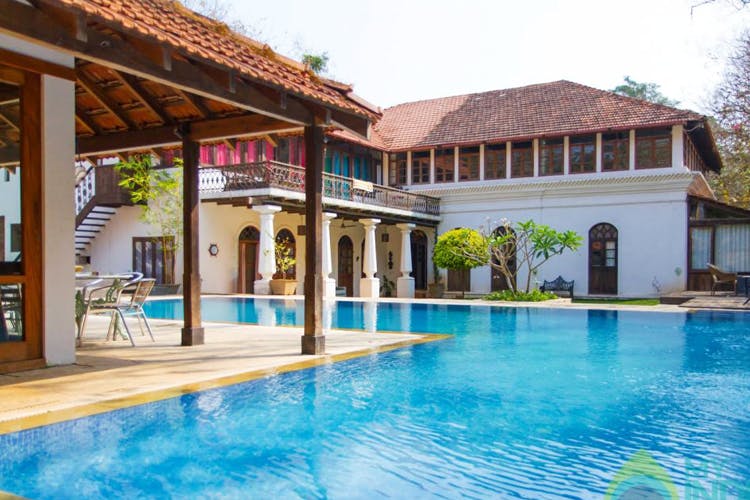 #LBBPicks: Goan Homestays To Laze Around In This Monsoon
When I'm fatigued with the stereotypical Goan party vacation, or I have friends visiting from out-of-state looking for the real Goa, I direct them to homestays. Staying with local families, eating dinner with them while discussing their ancient ties to the state, is a way for us to sink into a typical Goan life like no other.
Afonso Guest House
A family-run homestay for the last 30 years, the Afonsos speak fluent Portuguese, English, French and Italian. The homestay, with a beautiful walkway and a rooftop terrace overlooking the St Sebastian Chapel, is an extension of their residence.
I recommend this homestay to those looking for an authentic Portuguese experience, coupled with Goan hospitality. It's located in the old Latin quarters of Panjim, and there are many restaurants, bars and art galleries around.
#LBBTip: This is not the place for someone just looking for a beach. They have air conditioned rooms, which are clean and comfortable. Great for someone looking for a luxury experience on a budget.
Where: 173, Near St. Sebastian Chapel, Fontainhas, Mala, Panjim
Price: INR 1,950 for two people, one night
Contact: +91 8322222359
Check out their website here.
Birdsong Villa
Located in Moira, this homestay built in 1804 has a blend of heritage with modern luxury that I love. The villa also has a pool to relax by, making this a great weekend getaway. It's ideal for the person who appreciates architecture and design, with the resort itself yielding to many memorable photographs. They also have a well-stocked library.
#LBBTip: The homestay is close to a football ground which hosts tournaments weekly, which I love to drop by and cheer at. I also recommend nearby Cecilia's Cart — near the panchayat office — for some chops to snack on.
Where: House No. 497, Calizor, Moira, Bardez
Price: INR 52,000 a night for the entire villa, which can accommodate 12 guests
Contact: +91 9987962519
Check out their website here.
Siesta Villa
Located in the heart of Cavellossim, South Goa, the Siesta Villa has two luxurious bedrooms watched over by the friendly owner and caretaker. I recommend this place for its view; the rooms have stunning views of the Sal river. It's also good if you're travelling with a group of friends, since you have exclusive access to a living room, a dining room and a pool.
#LBBTip: This place has a minimum stay of a week.
Where: Siesta, Luisa By The Sea, Near Mobor Assolna Estuary, South Goa District, Cavelossim
Price: INR 49,000 for a week, can accommodate four guests
Contact: Write to luisabythesea@gmail.com
Price for the villa per night; INR 49000 for a week.: ₹ 7000
Casa De Goa
This villa in Gauravaddo, Calangute, is over a 100 years old. Perched on the countryside of the district, this villa is a kilometre away from the beach.
This place is ideal for people who want a little bit of everything. It's in a quiet area, which makes it perfect for relaxing, but it's also two kilometres away from Baga Beach, so I can drop by to check out the tourists before retreating to my homestay.
#LBBTip: This homestay has slightly strict rules — no loud music after 11pm, and they're sticklers for keeping the area clean, so be respectful of their rules. A no refund policy means that their rules are usually followed.
Where: E1/33, Gaura Vaddo, Near Tiara Hotel, Calangute
Contact: +91 8326717786
Price: INR 16,00 upwards
Check out their website here.
Starting price for a Deluxe room per night.: ₹ 4400
Chalet Balnear
Built in 1929 in the ancestral home of the Pintos, this homestay is right on the Candolim beach in North Goa. Since it overlooks the beach, this homestay offers the kind of views I've usually only seen on postcards. A thatched roof, a private terrace overlooking the sea, and a walkway leading straight to the beach—this is where I tell people to go if they want to feel like they've escaped to an idyllic version of Goa.
#LBBTip: This homestay is close to the Florentine restaurant, which according to me has the best Chicken Cafreal in Goa. Also check out nearby Viva Goa for a fish thali lunch.
Where: 207B, Near Marquis Beach Resort,Dando, Candolim, Goa
Contact: +91 90497 04448
Price: INR 5,500 for three bedrooms, can accommodate six guests
Comments