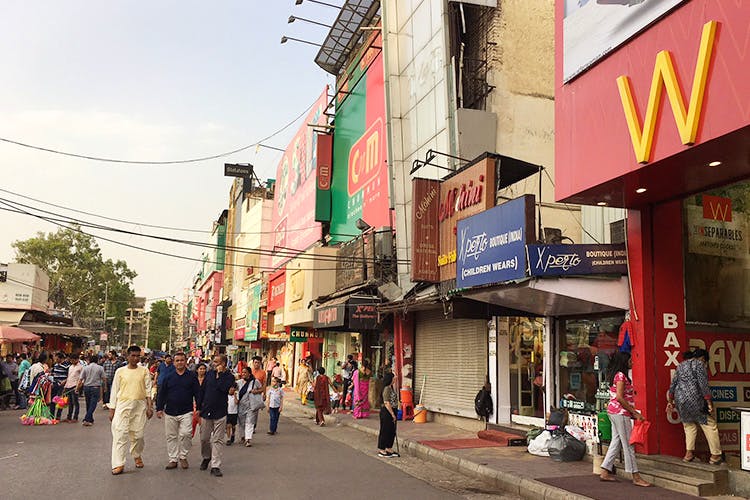 Plan Your Shopping Day! Find Out Which Market Is Closed On Which Day
We know that it can be a damn shame to get all wired to go on a shopping spree, and then having to cancel. Here's a handy list of which Delhi markets are closed on which day to help you plan in advance.
Sarojini Nagar
Closed on: Monday
Our favourite haunt on any given day, the place remains closed on Monday. Although, on the other hand, the best day to go is on Tuesday, since all the new stock comes in then. If you do end up going on a Monday, you'll get second-hand and stolen things for 20 bucks or less.
Noida Sector 18
Closed on: Tuesday
From Colonel's Kebabs to Kaffiiaa, from Burbee's to Nizam's Kathi, we are bowled over by Noida's Sector 18 market. They have a lot of electronic stores and other pop-ups, which are closed on Tuesdays.
Tibetan Market, Janpath
Closed on: Sunday
One of the most fun markets to traverse is the Tibetan Market in Janpath, and, unfortunately, you'll find it shut on Sundays. Some of the restaurants in Connaught Place remain closed in the mornings and sleepily open during the evenings, but it's better to give it a miss.
Chandni Chowk
Closed on: Sunday
While you have to miss out on Nai Sadak's book market on a Sunday, you can check out the book bazaar and the Chor Bazaar during the mornings. Read everything about Chandni Chowk here.
Khan Market
Closed on: Sunday
Though the restaurants are usually open (Yay! More Big Chill for us), you'll find the smaller stalls and stores closed on Sunday.
Kamla Nagar
Closed on : Monday
Our favourite when it comes to shopping on tiny student budgets, Kamla Nagar is the place where new restaurants constantly pop up. No point going here on a Monday, though—almost everything is closed.
GK I & II M Block Market
Closed on: Tuesday
Just like how GK1 M Block is just not traversable on weekends, you'll find a ghost town thereabouts on a Tuesday. This sucks for all the college-goers around the area, but hey, give them a rest okay?
Again, while most restaurants will be open, the offices and smaller stores are usually closed on a Tuesday in GK II.
Jwala Heri Market
Closed on: Wednesday
This market is one of those typically unorganised Delhi shopping hubs, where you have to look closely for what you need, because there's just so much to choose from! Jwalaheri can be a lot of fun, as we found out here.
Karol Bagh
Closed on: Monday
This is one of the oldest markets of the city that keeps us going back for the chaos, Punjabi tailoring shops and jewellery stores. Gaffar market has a bunch of imported goods to check out. Karol Bagh FTW!
Nehru Place
Closed on: Sunday
Usually, Nehru Place is closed on Sundays, but you can find some loitering salesmen with cables, microphones et al, as well as some smaller shops that will sell you phone covers. The majority of the electronic work is stalled on a Sunday.
Kailash Colony
Closed on: Tuesday
While college students keep hanging out around the area even when it's closed, if you're looking for a grocery or fruit guy, they'll probably be at home sleeping on a Tuesday.
Lajpat Nagar
Closed on: Monday
Asia's largest place for salwars and suits, we keep going for the summery, vibrant prints and the shops full of fancy kolhapuris and flats. You'll only find the churanwala and restaurants open in Lajpat Nagar on a Monday, though.
Galleria
Closed on: Tuesday
This sweet little market has stayed on amongst all the malls that have come and gone. We love to talk about the new things that keep making their way here. But we suggest a day other than Tuesday to visit.
Kirti Nagar Furniture Market
Closed on: Monday
Planning to spruce up the house? A new couch maybe? A new dining set sound good? Well, you'll get all of that and more (basically, everything related to furniture) at the Kirti Nagar furniture market. Don't head there on a Monday, though. You'll only find disappointment, not new furniture.
Rajouri Garden
Closed on: Wednesday
The West Delhi hub for all things shopping, Rajouri Garden is a market full of pedestrians with a profusion of shopping bags in hand. There's no point going there on a Wednesday—you'll only find closed shutters and your shopping dreams shattered.
Chawri Bazaar
Closed on: Sunday
If you're feeling like diving into some jalebi, halwa, and other finger-licking street food, Chawri Bazaar is your respite. The market is also famous for its horde of wedding card printers, so if you're a bride or groom to be, you might want to stay back and enjoy your Sunday elsewhere.
Laxmi Nagar
Closed on: Monday
Pack up the fancy footwear and go with the rugged ones, Laxmi Nagar market is a crowded affair when it comes to street food and shopping. The East Delhi market has been undergoing a makeover with the likes of Minion Cafe opening up shop. You don't want to go here on a Monday, though.
South Extension I & II
Closed on: Mondays
The fancy buildings and the shimmery lights of South Ex market really make it a sight when you're out there. You'll also find some amazing eateries if hunger pangs are starting to creep up. If you're planning on going for a shopping run, you'd better avoid them Mondays. The food joints remain open, though.
Shankar Road
Closed on: Mondays
When it comes this little market, don't be fooled by its size. You'll find electronics stores, food havens (especially street food), repair centres, and shopping joints—this market has it all. Here's a tip: Try Peshawar's aloo puri for a breakfast kick. The market does remain shut on Mondays, so make sure your plans are sorted.
East Patel Nagar
Closed on: Mondays
Aflush with hookah bars, tiny cafes, grocery stores, and fruit vendors, East Patel Nagar market never seems to be empty. You'll find it deserted on Mondays, so don't get make any concrete plans just yet.
Shahpur Jat
Closed on: Sunday

Endless rows of designer stores and expert tailors populate this little market. You'll also find a bunch of amazing cafes to unwind at after your shopping day. Don't make any plans on a Sunday, though–you'll be wasting the trip.
Sadar Bazaar
Closed on: Sunday

If you've taken on the daunting task of heading to the overpopulated mecca of Sadar Bazaar to buy, well, literally anything, make sure it's not on a Sunday.
(With inputs from Tushar Thapar).

Comments