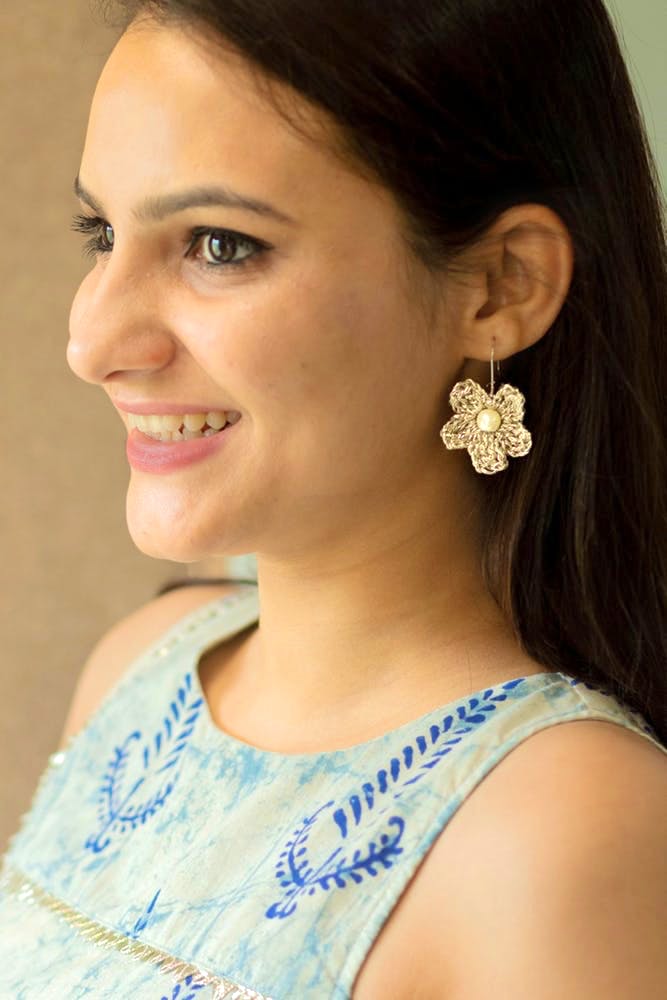 7 Feather-Light Earrings On Our Radar
Constantly struggling between the desire to wear on-trend cutesy earrings and the fear of looking like a teenager? We found 7 super quirky, lightweight earrings that'll make any outfit pop:
Gold Plated Potted Cactus
When it comes to fun, bold designs and spot-on quality, nobody does it better than Kriti & Penna! From their super minimal cactus studs (that have my <3) to taxi motifs, watermelons & tea cups (hello chai lovers) - EVERYTHING is practically weightless! The best part? All their amazing pieces are for flat ₹499. So, go on, take your pick!
Flower Crochet Earrings With Pearl
More flower to you 🌸 These crochet earrings from Artistree are the perfect alternative to your OTT shaadi jhumkas! Embellished with pearls, the silver detailing makes 'em appear royal AF and the Zari thread keep them light (on the pocket too). Last I checked, they were selling out really fast, so get yours asap.
Origami Lotus Pearl Drop
If you like to take an unconventional route to everyday accessorising, you'll love these chic lotus ear drops! The origami motif makes them really different from what we generally sport, the petite shape perfectly complements minimal outfits and the pearl drop? SO chic! They're best worn with, well, everything. Casual outfits? Stunning LBDs? Vintage-inspired jeans & graphic tees? Done.
Gold-Plated Semi Precious Stone Earrings
Unpopular opinion, fashion edition: Gemstones are taking over the silvers & golds of the world. If you're looking to jump on the trend, start with these vibrant red ear drops - they'll lighten up demure outfits, blend into jazzy ones and will have you looking classy as hell every time you wear 'em.
Circle In Circle Pearl Earrings
These circle-in-circle earrings are exactly the stylish upgrade your hoops obsession was craving! They come with 2 cutesy pearls, and believe you me, they weigh ONLY 15 grams. Priced at ₹285, these beauties became an LBB-user favourite in an instant and with only 6 of their kind left, I suggest you head over to LBB.IN/SHOP asap!
Minimalist Rectangular Hoops
A widely accepted fashion fact: nothing looks more graceful than minimalist long ear-drops. An equally popular opinion: They're all soo heavy. Lucky for us, this homegrown (local) brand on LBB has NAILED how to do *light-weight* elongated earrings and we can't keep calm. Available for ₹370 on LBB, we're hitting add to cart RN.
Comments