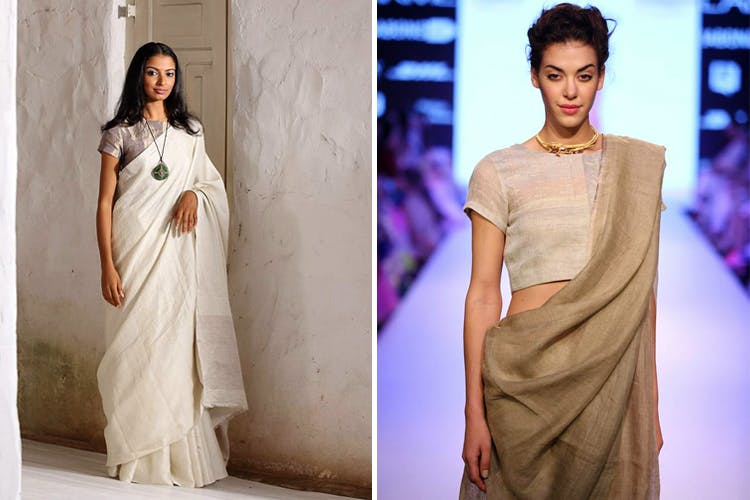 Linen Lovin': Labels To Check Out For Beautiful Linen Saris
Come summers we're bound to see plenty of cotton dresses, palazzo pants, flowy skirts, and strappy tops on the streets. But we're making a plea for the linen sari to be made a wardrobe stable. Think about it – it's comfortable, easy to carry, perfectly breezy for summers, and so, so beautiful and elegant. Where do you score one from? Allow us to blow your mind.
Gaatha
When we hear linen, we immediately think of solid-coloured fabric in light pastel shades, which is why we were pleasantly surprised by what Gaatha had in stock. Ajrakh print saris in linen fabric made funky with tassels on the pallu, in traditional colours like maroon, black, beige, and blue.
Where: Shop online here.
Price: Starting at INR 5,700
Rust Orange
Looking for linen saris on a budget? Rust Orange's got some in simple ones in solid colours with borders and checks too, that'll work perfectly as office-wear on a hot summer day. The linen is woven with zari yarn to give it a nice subtle shine and each sari comes with its own blouse piece.
Where: Shop online here.
Price: Starting at INR 3,495
Galang Gaban
We discovered Galang Gaban when Kangana Ranaut made an appearance in this beautiful light pink linen sari with red hearts. These linen saris are playful, fun, and very, very classy. You'll find earthy tones like greys and browns as well as pops of sea blue and yellow with tulips, spades, and polkas—each piece being super stunning.
Where: Shop online here.
Price: Starting at INR 10,900
Byloom
This is one of our very favourite stores from Calcutta. They've got a glorious selection of textiles, including some gorgeous linen saris, that are not too highly priced. You'll find pure linen saris along with mixes of cotton linen and khadi linen. You'll find the occasional piece with tassels, which makes things even more interesting.
Where:  Shop online here.
Price: Starting at INR 1,850
Anavila
Our obsession with linen saris started with Anavila. Seriously. These beauties have a distinguishing quality about them, that makes them instantly recognisable. Whether it's a celebrity sporting it during an event or a blogger wearing it to a fashion show, these saris have a way to stun with their chalky pastel shades and simple elegance.
Where: Shop online here.
Price: Starting at INR 11,000
Parisera
You can call Parisera the curator of the most beautiful saris. In terms of linen they stock saris by several brands and designers, so you'll find a good variety here, ranging from Ajrakh print, khadi linen, linen silk with shibori & ikat work, and simple, solid-coloured ones with zari.
Where: Shop online here.
Price: Starting at INR 5,000
Comments