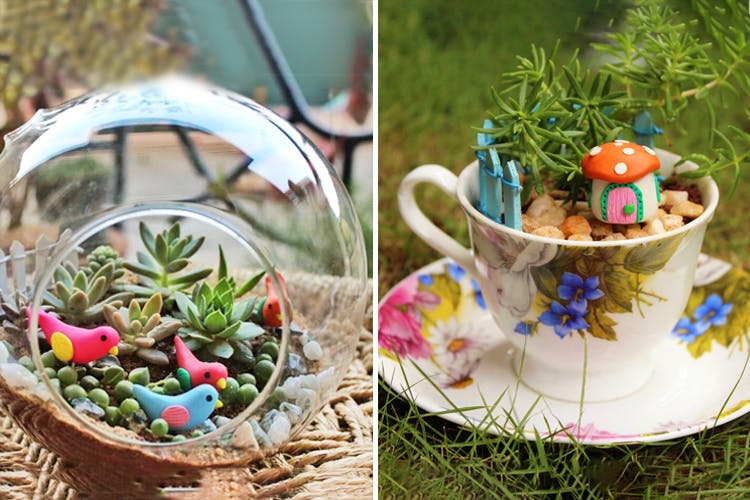 Make Your Own Mug Garden With These Miniature Gnomes & Mushroom Houses
Shortcut
Fairies In My Garden is a Bengaluru-based miniature artist, Namisha Sinha's attempt at recreating the magical world of fairies and gnomes using nothing but clay. This incredibly tiny garden decor can fit easily into your palm. So, there's no stopping you from having a DIY mug garden plonked on your office desk or your favourite balcony spot.
What Makes It Awesome
When Namisha began, it was merely to find a way to go back to a magical childhood where everything beautiful prompted a willing suspension of disbelief. After people laid eyes on these cute lil' creatures, they wanted a loaded mug themselves. This led to a Facebook page where people regularly hit her with customisation requests (she's dabbled in everything from a pea-sized teapot to topical things like Santa Claus figurines) and the ball was rolling like nobody's business.
The coolest thing about this garden decor is that it's all handcrafted and hand-painted using a lump of clay. They're all whimsical, colourful and totes adorable. She has even come up with her line of miniature fridge magnets and earrings that are cute as a button.
What Could Be Better
Unfortunately, she doesn't ship the pre-made mug gardens (with the soil, fence, pebbles, plant and paraphernalia) for the fear of it getting damaged in transit, but the good news is, the miniature decor elements can be couriered to your doorstep. Which if you ask us, is great in a way that it lets you fill those dreadful winter afternoons with an amazing DIY project.
Pro Tip
If your imagination is rather wild, and you want something created specifically for you, give the creator a shout on her Facebook page and she's super-prompt about getting back.