The information in this post might be outdated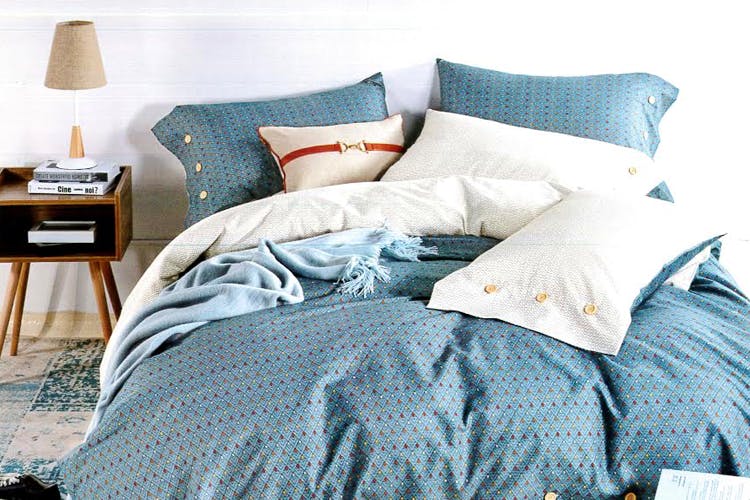 It's Time To Snuggle Up With Malako's New Luxury Bedding Collection
Shortcut
After a tiring day at work, all you think of is snuggling into soft sheets and letting the world pass by. To enhance that experience, it's time you get a good night's sleep with Malako's luxury bed sheets, comforters and blankets, that is sure to give you a blissful experience.
This e-store is all geared up to make you feel like royalty with their delightful range of 100% cotton products in so many fun colours and shades, you wouldn't know where to begin.
Warm, Fuzzy Feelings
Looking to redecorate your bedroom? Style it up with uber luxurious beddings like their Petal Soft Comfort XL printed 100% cotton king size 6-Piece bedding sets. Available in classic designs as well as fun, colourful patterns, it is your one-stop-shop for that peaceful slumber. From 3-piece bed sheet sets to 5-piece bed covers and bedding sets, they have got you (and your bed) covered, literally. We didn't realize that luxury could be available in so many designs!
Check out their Petal Soft Blends Texture Plains 100% fine cotton king size 3-piece bed sheets in vibrant colours like green, sky blue and magenta, or their Petal Soft Passion Printed 100% cotton king size bed sheet 3-piece set in quirky tribal patterns - can't just pick one, can you?
Gifting Game On Point
With the festive and wedding season almost upon us, it's time for us to get our gifting game on. Malako has some beautiful 5-piece bed cover sets and bedding sets starting at just INR 3,999, which make for a wonderful Raksha Bandhan gift for your siblings. The best part? They have a flat 25% discount from August 5 to August 26.
Bored of gifting the same old perfume sets and watches to them newlyweds? Look no further! Malako is launching a special wedding collection for the upcoming season to get you on point with your shopping. Floral prints, vibrant colours, warm shades and artistic patterns - take your pick!
So, We Are Saying…
Turn your bedroom into a work of art or gift comfort and style to your loved ones with Malako's exquisite luxury bedding collections. Hit up their website and browse through their delightful variety right now to make the most of their deals.