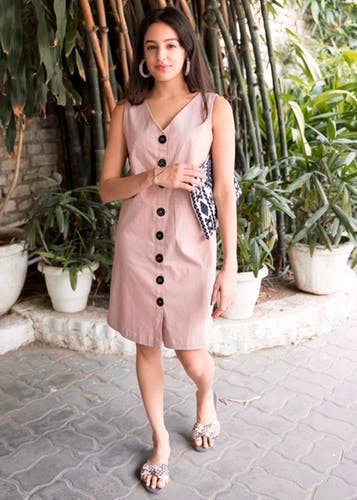 My Picks For The Perfect Summery Look: Starting at ₹399
I love pastels and muted colour schemes because of how sophisticated they look and how easy they are to pair with each other. Considering how hot it is during the summers, I like to keep my wardrobe simple but still thoughtfully curated to express my own style. Here's a look that I would probably wear variations of all the time!
Here are the products I love...
Front Button Detail Sheath Dress
Sheath dresses are a go-to for my because of how fuss-free they are, its one item of clothing and voila- all I need is some great shoes and accessories. This button detail sheath dress is a great pick for some cool and breathable clothing fit for the heat. It's a great pick for a casual day out!
Textured Pink Hoops
I've really been getting into the whole resin-jewelry trend because of how cool it looks and how versatile the styles are. These earrings are super wearable with so many outfits and the pale pink with texturing is SO CUTE! You can accessorize these with more dress-y outfits but also with something more minimal and complimentary like this dress!
Handcrafted Grey Aztec Jacquard Cross-Body
Aztec is a great print to pick for some extra va-va-voom when wearing a more minimal outfit like this. It's a handy cross-body that you can fit all your essentials in and be unbothered about it flailing around your shoulder all day. Fun fact: utility is always a priority for me, and this fits the brief, in style.
Interwoven Cross Belt Slides
These slides compliment this outfit so well and that is SO satisfying to me. A tasteful grey and pale pink combination is always a win in my books. A lot of my friends sometimes talk about how its hard for them to find shoes their size since they're EUR 40's or above, I've got some good news for them as well as everyone else who has a similar problem: these come in sizes up to EUR 42! Love that!
Comments