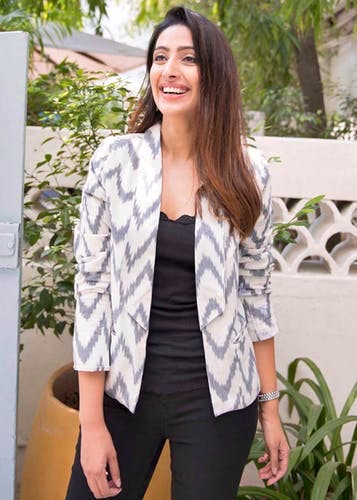 Off White, Always On Trend: My Go-To Meeting Look
I always need a multitude of formal and semi-formal options since I have to be in and out of meetings everyday. I try to look for something classy and appropriate that expresses my personal style, but still is *just* casual enough to be able to pull off for a fun night out or even a mid-day lunch with my friends!
Off-White Chevron Ikat Jacket
This off white ikat jacket is a great piece to just throw on and effortlessly style anything I'm wearing and make it look so much more put together and structured. Ikat is such a versatile fabric depending on the colours used and the navy against the off white makes the jacket seem subtle yet still interesting to look at. I like to pull my sleeves up ever-so-slightly to make it look cooler and slightly more semi-formal!
Triangle Cut-Out Earrings
I love these earrings simply because I can easily wear them out to dinner to unwind straight after a long day at work. They exude MAJOR grungy-chic vibes and are such a cool addition to this semi-formal look. They really complete this look and I'm obsessed!
Comments