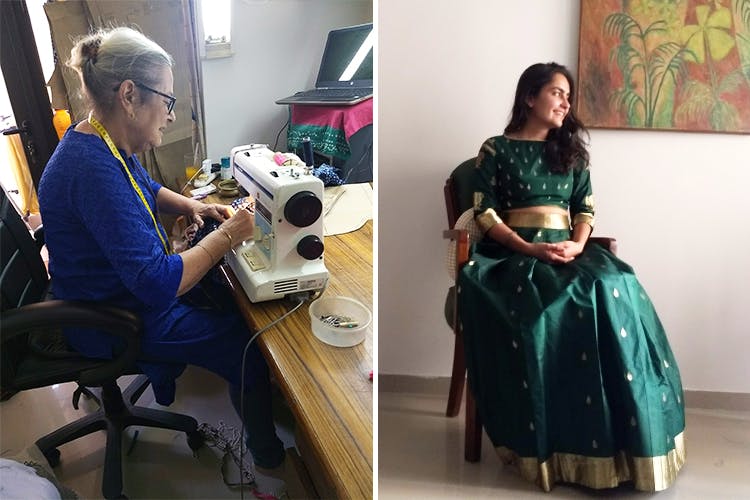 Old Saris Into Lehengas Or Summer Dresses, This German Tailor Stitches It All
Shortcut
From a beautifully done-up house in Noida's Sector 137, Anna stitches everything Indian and Western for everyone who's patient and super-picky about how clothes fit and feel. With her German radio for company, she channels her inner designer and promises to create impeccable drapes at the most affordable rates. Yes, she's really that good.
Great For
Upcycling old clothes, Indianwear, blouses, salwar suits, ghagra skirts, lehengas, tailored pants, skirts, work, jackets, tunics.
What Makes It Awesome
Bits about Anna's crazy life make her as much of a storyteller as a talented designer-cum-tailor. She dropped out of school in Germany to study eight years of everything—from hemlines to quality control to cutting to fabrics—and then, landed a job with an Indian importer whose production house was in India. Her frequent trips here were the beginning of her love affair (she also met her future husband here).
After a series of corporate jobs, the breakthrough came when her neighbour in Gurgaon asked her to stitch uniforms for the wait staff for a cafe she was starting. Slowly, a lot of neighbours started thronging her house.About two years ago, she moved with her graphic designer daughter to Noida and, after a few months of reaching out to Noida folks on Whatsapp groups, she had a steady flow of projects.
Two years later, she's swamped with work and sometimes pulls all-nighters to meet deadlines. We love that she's also super-realistic, honest and affordable because tailoring is her passion. Considering you'll take your own fabrics, her fee starts at INR 450–500 for a simple dress (minus embellishments), INR 700 for Indian suits and INR 300 for trousers (these, she says are the easiest to stitch).
Oh, and she knows all the Delhi cloth markets from Shanti Mohalla to Nehru Place. And, she stocks up on the cutest buttons, lace and more.
What Could Be Better
Wish she stayed somewhere closer to central Delhi. We also find it tedious to make two trips so Anna can do a rough stitch and then a final one before our outfit sees the light of the day, but hey, you're going to get a finished product that fits like a glove. A colleague who tried her lehenga on testified that it felt smooth as silk.
Pro-Tip
She usually also restricts her internet time to early hours. Call her and co-ordinate on Whatsapp in the mornings. It's also wise to keep a week to 10-day buffer between when you expect to see/wear your outfit… She gets really busy during the wedding season, obviously.
Comments