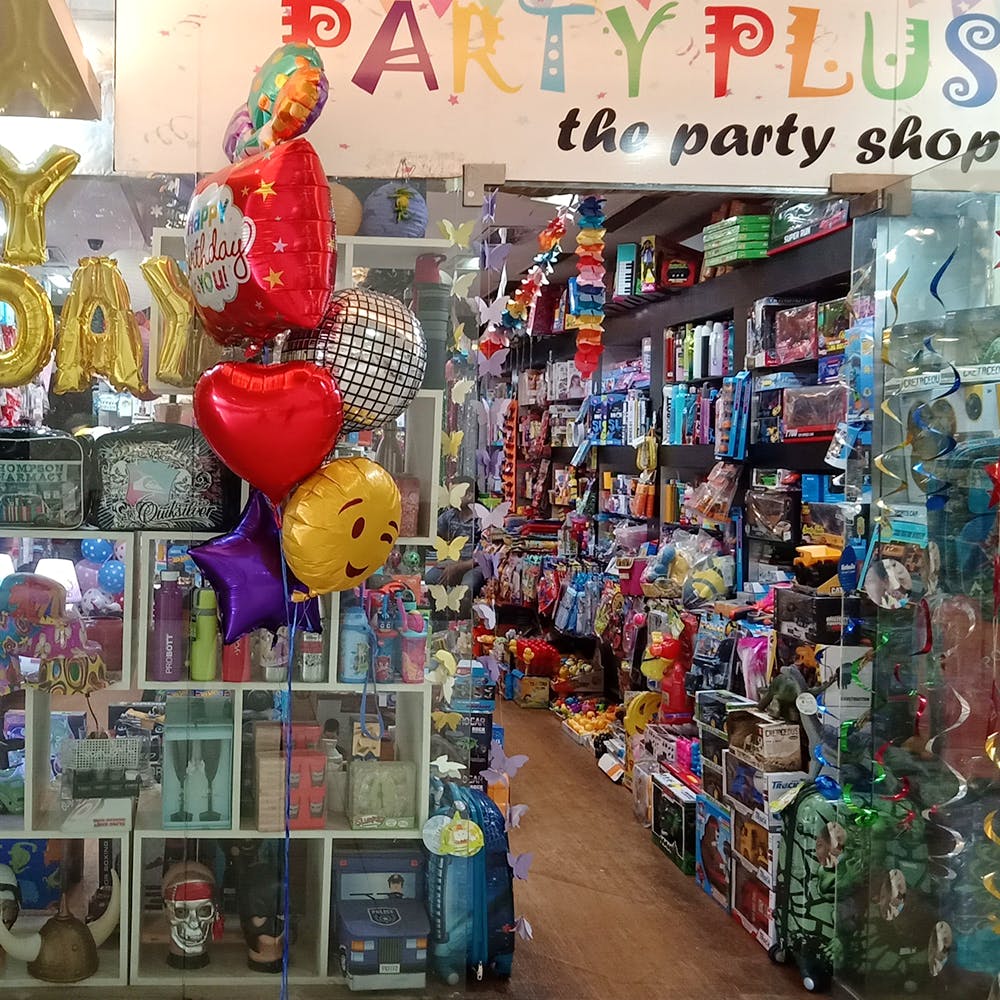 Throwing A Party In G-Town? Get Your Props & Decor From These Stores
I think we can all agree upon the fact that the 'planning' phase of a party is the BEST kind of build-up! From preparing a guest list to decorating the venue and arranging everything from basic party supplies to intricate, fancy balloons and decor, the secret to having a lit party is to have everything organised and planned!
We've curated a list of awesome party supplies stores for you, so that you have a lit one too.
Party In A Box
At a party, most people look forward to the food (including me), while the hosts look forward to their housemaids the next day. The solution? Disposable plates! The Party In A Box store at MG Road has literally the most vibrant sets of disposable tableware I have ever laid my eyes on.
Available in light and dark shades of blues and greens, pinks and purples, yellows and oranges and even plain whites, their set of 8 disposable plates start at INR 199. If you're throwing a theme party, they have other cool options as well. You can also cop some cups and glasses from the store.
Other than the basics, Party In A Box also has an impressive collection of helium balloons (of almost the size of a human kid), piñatas, decorations, tiaras and sashes.
Funzoop
Funzoop is a cute party supplies store in sector-49. Instead of travelling to boring stationery stores around, or going to old Gurgaon markets, go HERE! They have plenty of decorations like streamers (starting at INR 180 for 12 rolls), and helium and latex balloons in crazy colours (a pack of 25 starts at INR 150). If you're looking for props or occasion oriented decor (for a baby shower or an engagement ceremony), you'll love the store (the collection starts at INR 250). They also have really pretty wrapping material and gift bags starting at INR 150 and INR 20, respectively.
Party Central
The Party Central store in South Point Mall is loaded with fun party props! Although they do have regular latex balloons, I recommend you visit the store if you're throwing or attending a theme party. Expect goofy masks, hats, glasses, wigs (all starting at INR 150) and funny placards (starting at INR 50). They also have really cool mugs and shot glasses (starting at INR 200) that are super Insta-worthy!
Paper Caper
Paper Caper is a very popular store located in Nirvana Courtyard. Mostly known for its wide range of stationery, the store is also loaded with party and gifting supplies. They have beautiful paper lamps, lanterns and other fun stuff, perfect for theme parties (expect Elsa and Minions). Personally, I love going to this store even if I have no parties to attend because everything here is so exciting.
GoBalloons - The Balloon Studio
GoBalloons
is a cute balloon boutique in Good Earth City Centre. All that they have in the store are some super cool latex, rubber and metallic/chrome balloons. They're priced at INR 150 for the smallest size and the price goes up with the size. They're perfect for both formal and informal events.
Mr. Fobu
Mr. Fobu is an adorable toy store and is stocked with quirky party supplies. I recommend the store for goofy mugs, shot glasses, and gifting items for both kids and adults.
Fast Turtle
Fast Turtle is located in MGF Mega City and they have seasonal discounts, so they've got a corner where you can avail some party supplies at just INR 99! Drop by if you're shopping for offbeat tableware for parties.
Birthday Wrap
Birthday Wrap, in MGF Mega City, is stuffed with birthday party decorations (from balloons to imported decor for cake stations). I recommend you get in touch with them if you need help organising a party. They'll help you with setting up the venue entry gates, to the cake stations and with more cute decor!
Party Plus
If you'r throwing a theme party, or if Halloween is around, you must drop by Party Plus on MG Road. They have some playful items in the store like Rasta beanie wigs, prank toys, games, and other such stuff!
Comments