The information in this post might be outdated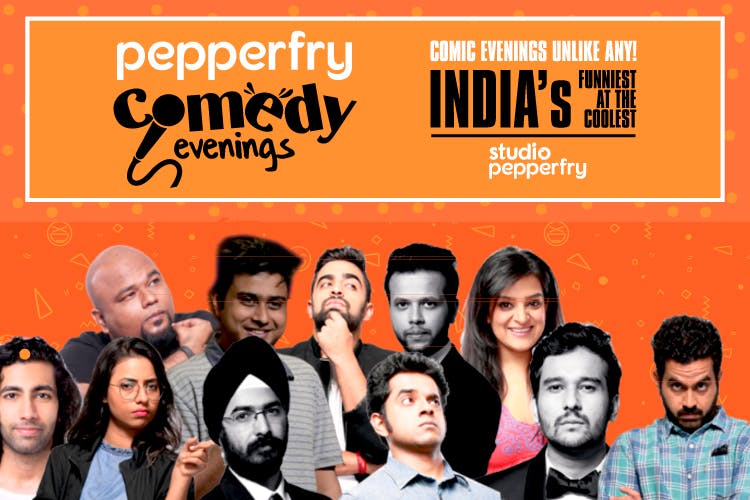 Delhiites, Laugh Out Loud At The Pepperfry Comedy Evenings
27 Oct 2018 - 4 Nov 2018
27 Oct 2:46 PM - 4 Nov 5:30 PM
What's Happening
Laughter is the best medicine, they say. Delhiwallahs, this is a great opportunity for you to unwind with rib-tickling comedy and see your favourite comedians perform live for free on comedy evenings organised by Studio Pepperfry across Delhi, starting October 27. Popular comedians like Sapan Verma, Angad Singh Ranyal, Aadar Malik, Anirban Dasgupta, Shankar Chugani, Sejal Bhat, Nishant Suri and Saurav Mehta will be performing live comic sketches. What are you waiting for? Get, set & RSVP.

How's The Venue
The event will take place in the Pepperfry Studios:
October 27- Studio Pepperfry, MG Road, Gurgaon
October 28- Studio Pepperfry, South Ex Studios & Kirti Nagar
November 3- Studio Pepperfry, MG Road, Gurgaon
November 4- Studio Pepperfry, Kirti Nagar
Price Includes
The entry is absolutely free for all.

Make A Note
The lineup for the event:
October 27 (MG Road, Gurgaon): Sapan Verma & Shankar Chugani

October 28 (South Ex Studios): Shankar Chugani & Anirban Dasgupta
October 28 (Kirti Nagar): Sejal Bhatt & Aadar Malik
November 3 (MG Road, Gurgaon): Angad Singh Ranyal & Nishant Suri
November 4 (South Ex Studios): Saurav Mehta & Angad Singh Ranyal
November 4 (Kirti Nagar): Sapan Verma & Nishant Suri
Comments
27 Oct 2018 - 4 Nov 2018
27 Oct 2:46 PM - 4 Nov 5:30 PM