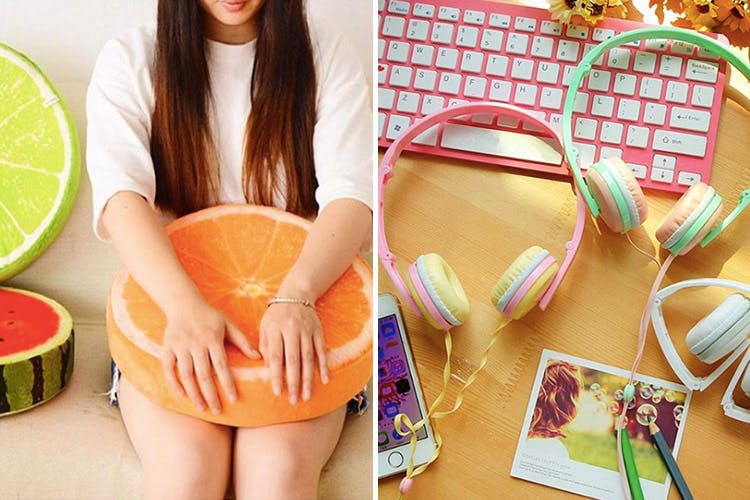 Pizza Power Banks & Macaron Headphones! This Site Is Great For Fun Gifts
Shortcut
Topsy Turvy is a Noida-based site that's got a funky assortment of collectibles and random gifts across tech, fashion, personal utility, decor and pets. Move over, mummy-approved embroidered cushions, Archies mugs and other sundry gifts.
Tech All Our Money Now!
We're guilty of having spent too much time looking for things we don't need. A few futile minutes into this fascinating search, we realised there'll be no looking away from this pizza beach towel or this fruit lens case. Our poor heart also lost control at the sight of these ice-cream socks.
Whether you have that friend who whips up a storm in the kitchen or know someone who's obsessed with stationery, there are ample choices to pick from here — this crocodile food clip and piggy paper clips are going to be our supporting arguments. After we're done gifting sweet things to the world, we'll invest in this cactus hot water bottle for those dull days. With this, the world should feel like a calmer, sweeter place. No?
What more do they have? Well, bicycle pizza-cutters, unicorn makeup brushes, cupcake tissue holders and really cute stationery in the form of cloud-shaped correctors and candy pens. Oh, and they even have a cotton candy maker—woot woot. The best part: Things start from INR 170 and shipping becomes free if you order exceeds INR 1,500.
P.S. Mahesh Bhatt loves Topsy's gifts. See these testimonials and you'll spot a lot of familiar Bollywood faces.
So, We're Saying...
The only bummer about Topsy? You can't open all the products in new tabs — this makes the shopping process long, tedious and a bit exhausting. Hopefully, someone's listening and fixing this.
Meanwhile, we're hooked on to these cat headphones (INR 945 more gone) and filling our cart with these beauty products under 999. See you on the broke side.
Comments