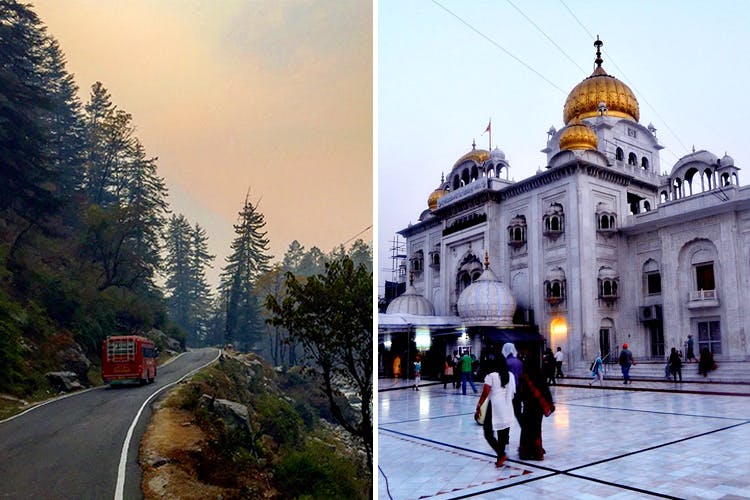 Delhi Folks, Here Are 8 Things You Didn't Know You Could Do Past Midnight!
Yes, Delhi doesn't have much of a nightlife to speak of. This is why we often have to give into food deliveries and Netflixing with our friends and family.
But no more. Yes, you can still drive to Murthal with the squad, or eat Moolchand parathas once dusk starts turning to dawn, but wouldn't you rather do more unconventional things? Like taking a ghost tour, or hitting a garden cafe with your dog? Now those are alternatives you never knew existed, right? So, we've made your checklist…
Check Into This Hostel After A Late Night
Can't bunk at your friend's? Got done at office really late? Or not sure your PG will take kindly to you sneaking in after a night of partying? Just hop over to Hide In Hostel that lets women spend the night safely for a mere 499 bucks. Coffee, a bunk bed, a terrace, a secure environment and the company of fellow travellers… What more could your unfussy being need? In fact, you also know where you can take your broke girl pals (you can stay with them, of course) from out of town when they come visiting. A cheap staycation? We say yes.
Read more about the hostel here.
Eat Kebabs & Sip Kulhad Milk In This Gully
Zakir Nagar is one whole lane lined with shops that have been around for years, serving hungry foodies all the way up till 1am. Nahari, galouti, tikkas, mango shakes, hot kulhad milk… This area has perfected their khaandani recipes. Rumours have it that one of these kebab men also catered Dr. APJ Abdul Kalam's get-togethers. Maybe now it'll make the cut for you chaps? 
Read more about everything you can devour here.
Go On A Ghost Hunting Tour
We all know that one person who's obsessed with spooky stories. In fact, this also happens to be that rare thing on the list that you and your gang can do for free. Let our list of eerie, supposedly haunted places in the city introduce you chaps to the wildest that Dilli has to offer. There are ten options to choose from, so you can pick one based on how much fuel you have left in your car.
Want an expert opinion on witch hunting? Call the Oye Happy guys to take you on a real hunt (with a ghost metre, a night vision camcorder and all). In fact, they've tied up with Paranormal Society of India to organise private tours for a group of five (hopefully brave) gang members. You get picked up from a metro station, taken around and dropped back by 2am. You can also choose your destination and carry a celebratory cake to cut at midnight with friends and spirits you might encounter.
Catch Bangla Sahib At Its Quietest, Prettiest Hour
We can't rave about the kadha prasad or the inner peace that pervades our being every time we've walked into Bangla Sahib. The very spirit of unconditional love and generosity can be felt, regardless of what religion you conform to, and that's the greatest thing ever. If you, like us, love utter silence and the sound of uninterrupted ardaas, we're told 4:30-5am is the best time to visit.
Read an insider's full account here.
Attend A Gig At A Club
Auro, Summer House, Privee', Playboy and more night clubs (these ones are in CP) have always come to our rescue when we're partying past midnight, but if you're even later to the party, go to The Electric Room. It's one of the city's few venues where live music gigs happen so often – and they're open till 4am!
P.S. If you know a Gymkhana Club member, drag them on a Thursday to get all the alcohol at Gymkhana rates. Think rum for INR 40 and scotch for INR 92!
Take An Overnight Bus & Run To The Hills
You could be in your bed, sulking about that boss from hell, or you could be in a bus, travelling to the hills for some much-needed downtime. The easiest way to do this? Leave office early on a Friday evening, book yourself a seat on the bus to Manali, Shimla, Jaipur or just anywhere and land up.
Not sure you can do the ISBT shindig? Check RedBus that's specifically made for bus bookings. For those who can't make up a relatable excuse for leaving work early, some buses ply even after 11pm.
P.S. They claim to have the lowest fares and ply on over 1,000 routes!
Pull An All-Nighter At This Library/Co-Working Space
A lot of times, a lot of shit needs to get done, and you'll be surprised at how much a change of scenery can help. Enter Ingenious Library in Dwarka. This round-the-clock space hosts free events like karaoke evenings, workshops, match screenings and more apart from just letting you work, read or study in peace when you're bored of your room (or the internet giving up on you). Bonus: Looking at other worker ants like you might serve as great motivation as well.
Read more about this ingenious space here.
Chill At These Cool Cafes
There was a time our only bet was Pandara Road. Today, we're spoilt for choice. Spooky Sky in Paharganj has everything from pizzas to dal makhani on a rooftop, Horn Please has rolls, and if you're around Gurgaon, hop over to All Time Cafe. We're hoping to check out this little cafe for a date overlooking the Qutub Minar sometime soon.
If you're feeling richer (and aren't wearing tattered shoes) with your salary just coming in, here are the fancy coffee shops that are open 24*7.
Comments