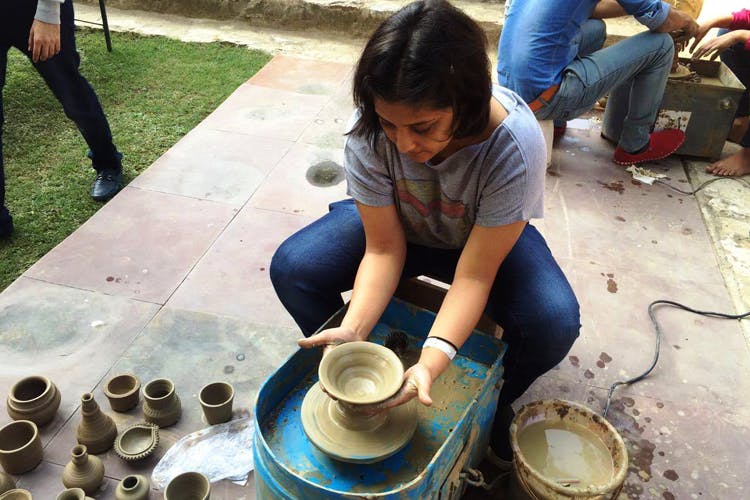 Nearest Metro Station:

ARJANGARH
Potter Around At Sanskriti Foundation And Pick Up A Fun Hobby
Shortcut
If you're in the mood to pick up a new hobby or looking for some holiday workshops for the kids, give the enamel and ceramic pottery classes at Sanskriti Foundation a shot.
The Wheels Keep Turning
Located in Anandgram on Mehrauli-Gurgaon Road, Sanskriti Foundation is a beautiful centre that celebrates Indian heritage and crafts. Most of us are aware of their Terracotta Museum and Museum of Crafts, but you should definitely check out their ceramic pottery classes too.
The ceramic centre is equipped with kick wheels, electric wheels and also different kilns.
What We Loved
Hobby or not, kicking the wheel and pottering around is quite the stress buster! The studios and ceramic center are situated in the midst of nature; just being there is inspiring.
Who Is It For?
Since you don't require any prior formal training, the ceramic classes are suitable for pretty much anyone who's interested. At Sanskriti Foundation, you'll learn about the skills involved in creating beautiful ceramic and enamel objects. There are some seriously good workshops and residencies for enthusiasts and artists as well.
Anything Else?
They're soon going to launch their summer classes, which would be perfect for your kids, especially if they have a creative bent of mind. Classes last about three hours, so they'll be quite busy this summer!
Comments
Nearest Metro Station:

ARJANGARH