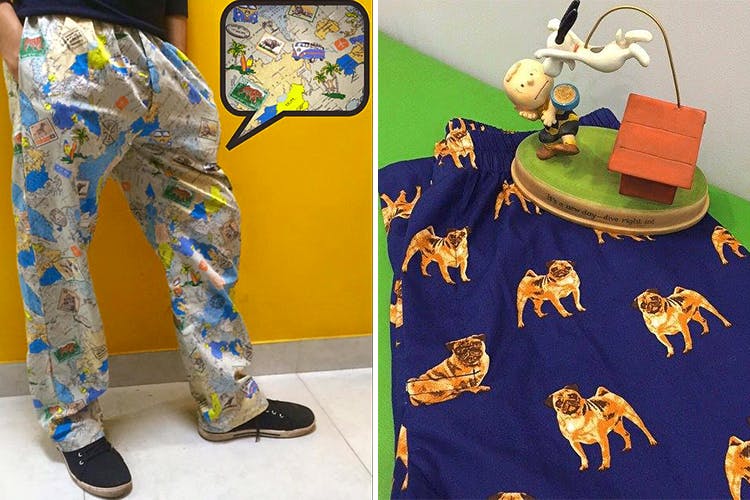 Pyjama Party On The Cards? Here Are 10 Places To Score PJS In Delhi
Pyjamas to bed. Pyjamas to work. Pyjamas for life. Sometimes, it's all we want to wear. From quirky Spongebob to girly florals to sexy satin, we've put together a list for all your pyjama needs. There's some great stuff for guys too because, equality.
Below the Belt
Say goodbye to plaids, stripes and checks and peep into what Below the Belt has in store for you. Fun prints, bright colours, tongue-in-cheek humour and lots of innuendos. If you're headed for a pyjama party, pick up a pair of PJs and watch it turn into a conversation starter. They have a range of boxers, pyjamas and night shorts for both men and women.
Check out their Facebook page here and their Instagram account here for orders.
Mango People
Pyjama sets with snow bear print, cool stationery, colourful cameras or the plain black checkered ones and striped PJs, you'll find them all on the Mango People's website. They've got some really fancy velvet pyjamas too that are slightly expensive but anything to get a comfortable, good night's sleep right?
Shop here.
Westside
This complete lifestyle accessory store has a pretty large section dedicated to nightwear. From silky feminine pyjamas to summery cotton ones with cow prints, to the regular checked ones in a bunch of colours, this is D destination if ever you feel your wardrobe lacking in pyjamas.
For a complete list of stores, click here.
Pretty Secrets
Primarily a lingerie website for women, Pretty Secrets has a not-so-frequented section for nightwear and pyjamas. Satin sets, checks, polka dots and tons of other prints and designs; they also have a bunch of neutral pyjamas, some of which you could possibly pass off as pants during the day.
Shop here.
The Boxer Store
The name is as straight forward as it gets. Started by Pallavi Khandelwal, who much to our delight, refers to herself as an undiesigner, TBS started off as a men's underwear brand, and has recently branched into boxers and pyjamas for the ladies as well. Choose from knit or woven mens boxers in amusing prints including crazy sharks and foodie pyjamas. Women have access to pyjamas in bicycle print, and a selection of quirky patterns.
Shop here.
Dandelion
If prints are all you like, check out Dandelion's collection of night suits. Available in 100% cotton and cushy flannel  perfect for winters, their PJs come in sets and also only PJ bottoms. They've got bear on a cycle, hedgehogs, owls  and carnival PJs for both women and men.
Shop here.
Perch Sleepwear
Cotton, silk, polyester, satin and viscos, Perch Sleepwear caters to all seasons and all tastes. Choose from their funky floral or chevron pyjamas or the sleek silk sets. You can choose from spaghetti straps, sleeveless and full sleeves pyjama sets. They even have a checkered hoody that looks snug and we don't mind spending days in it.
Shop here.
The Pink Elephant
From solids pastels, stripes and polka dots to tiny cactus prints, floral and ice cream patterns, this website has all things pretty and nice. As the name suggests, there's definitely a lot of pink but in so many shades that we never knew existed. They've also got sleepshirts, camisole & shorts sets that are airy, light and are perfect for summers.
Shop here.
De-Nap
We admit that the name sounds slightly funny but if you have a look at the kind of jammies they have to offer, you'll want to get yourself one asap. There's nothing that's screams home than being in your PJs and this one with the houses print just expresses your love for home. There's also the garden girl PJ set that we're eyeing but in case you don't wish to buy a whole set, the cute bottoms with Polar bears or the plain baby pink pyjama are great options too.
Shop here.
Comments