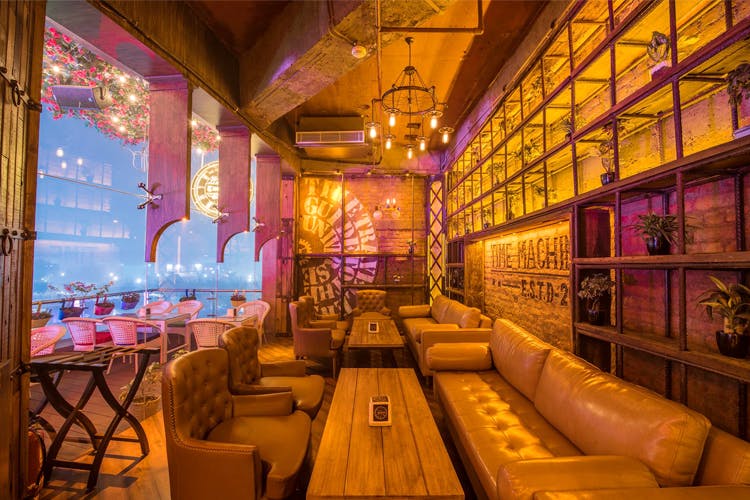 Meals In The Breeze: Check Out These 7 Outdoor Restaurants In Noida
Noida folks, if you thought that every time the weather played nice, driving down to Delhi for dinner plans was the only option, you thought wrong. From family lunches to chilling with the gang, we've found seven outdoor restaurants in Noida for every type of occasion.
Kalpak Restaurant & Cafe
The stunning rooftop with lots of greenery and a decent view is perfect for deep, meaningful conversations. While we're a little bummed that they don't serve alcohol, the fact that the restaurant's quiet (and you won't be struggling to hear the other person) pretty much makes up for it.
Imperfecto
For its pretty rooftop and the fact that it serves alcohol, Imperfecto definitely deserves a mention. While the food might not be outstanding, it sure is a great spot to catch up with your gang over booze and if the weather's good, everything's good.
Time Machine
The longest bar in all of Noida, amazing views of the skyline and an extensive menu with so many dishes and liquor options, we're sold already. If you've been having a rough week at work, Time Machine is just place in Noida to drink away your work blues, pig out and unwind with your friends.
Bohemia
If (like us) breakfast is your one true love, Bohemia is the place to be. It's a cute, all-white cafe with pretty prints and textures on walls, but as lovely as the interiors sound, it is their balcony area that we have our heart set on.
SkyHouse
SkyHouse is the place to take your liquor-loving date. We absolutely love some wine under the stars and flavourful Mughlai meals on their beautiful rooftop (with great company, of course). We've seen their drinks menu, and it's safe to say that they've got pretty interesting cocktails (like the Inverted Bird and Black Out) that you'll keep coming back for.
Laat Saab
Have parents who only want to eat at Moti Mahal but you're the kind that needs more variety? It's time you took them to Laat Saab. Started by the very folks behind Moti Mahal, Laat Saab's making rooftop family lunches possible with their appetising tandoori chicken and tikkas on tuk-tuks.
Comments