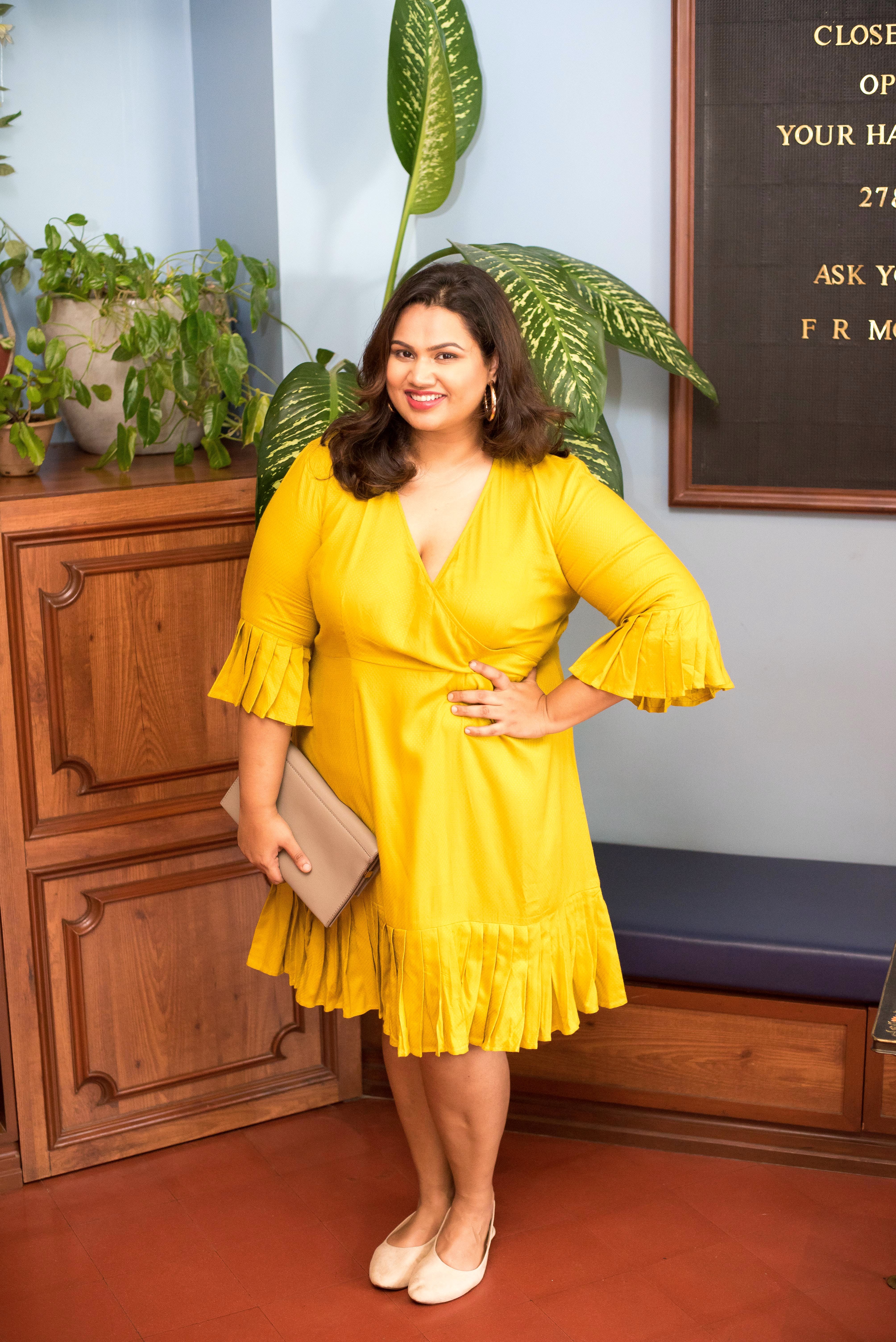 Saturday Night, Done Right: Shop My Glam Look On LBB
#settrendsdon'tfollowthem
Who says bright colours are reserved for daylight only? I just put together this glam look from LBB's awesome (local) brands and wore it from brunch with the gals to a club at night, and I've honestly never been so comfortable-yet-stylish all day.
Mustard Frill Dress
No matter what body type, this chic frill dress from The August Co. will make heads turn. It's got a really flattering fit - the cinched waist flares into well-knit pleats at the hem (pure genius, right?). I'm obsessed with the bright yellow - instantly puts me in a happy mood, and the V-neck detail? Just the right amount of flirty! I'd never imagined #MadeInIndia doing such amazing work, and at these prices? I'm hooked. Head over to LBB.IN/SHOP and look up this brand's million amazing styles.
Gold-Plated Hoops
Fashion's first thumb rule: A glam look is incomplete without a lil' shine. I added sparkles to my look with these gold-plated hoops from Goss Babe. They're an exciting upgrade to my regular hoops, don't look unnecessarily blingy and are selling on LBB for a crazy good price point. Check out this brand's entire range for a variety minimal-yet-chic jewellery. You're welcome.
Vegan Leather Clutch
Keeping style tips aside, if you're heading out to the club, DO NOT step out without a roomy sling (no matter how ugly). Lucky for us, we don't have to play those odds - pick this vegan leather embellished clutch that looks really simple & elegant, and holds pretty much all that we require through the night and comes in three awesome everyday colours. Paper & plastic money? Makeup essentials? Huge iPhones? Done.
P.S. - It's on 48% OFF on LBB, so 🏃🏻 before it sells out.
Beige Flats
To balance my super glam look, I picked these beige flats from Marcus Taurus' amazing footwear collection (got a whole list on those too). They come with an unbelievably comfortable sole - letting me dance through the night without my feet killing me, and are stylish enough to not make me miss my heels.
So, whatchya waiting for? Head over to LBB and get this glam look for that dinner date you've been dreaming about.
Comments