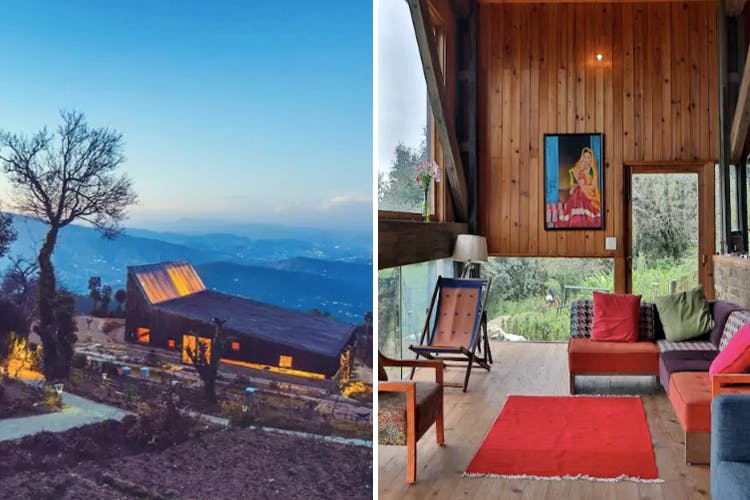 See A Million Stars & Lush Forests From Every Room At Woodhouse Farm
Shortcut
Woodhouse Farm in Nainital is a wooden cottage that's away from the tourist rush and surrounded by views of the Almora orchards—it's all about enjoying a quiet, hill vacation. Its five bedrooms can take up to 10 people, and combines the stillness of a village life with amenities we're all too used to (hey, hot showers and WFfi).
What Makes It Awesome
The location is a winner, but we're told that the stunning photos don't do full justice to how stunning this property looks. They also harvest rain water on their terrace, and are nice enough to offer a fireplace when nights get cold (so dreamy, right?).
The living room, with windows that offer sprawling views of the snow-capped Himalayas, is split in levels and offers sit-outs where conversations can go on and on.
If you're even vaguely into architecture, or into studying unique structures, you'll have a lot to admire at Woodhouse. We, for instance, could spend hours aww-ing over the skylights in the bedrooms—but the tragedy is, we're constantly torn between that and reading by the big windows.
When village walks get long and tiring, you can come back and cook your own meals (some ingredients can be plucked right from their backyard). Oh, and there's the staff to take care of tiny demands and hey, their books and board games will always be around for good company.
What Could Be Better
An overnight stay at this beauty is 37k, which isn't bad if you're a big group—but coordination and planning with big groups of friends and fam isn't the easiest feat, so the lesser the number of folks, the higher the tariff per person. If you can look past this simple math and are ready to splurge a little on a weekend, you're in for a real treat at Woodhouse.
Pro-Tip
You can drive up here and park at the designated parking lot in the village.
Comments