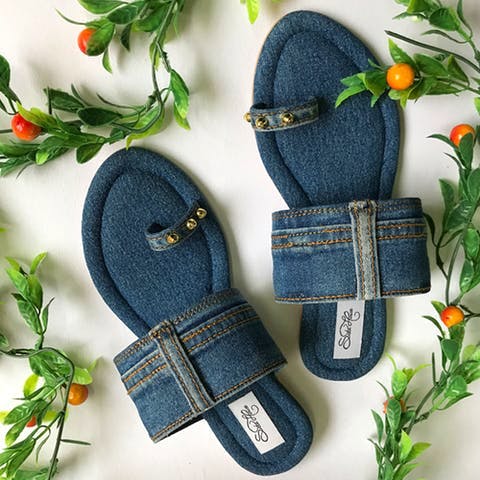 What To Buy From LBB's Giant Juttis & Kohlapuris Sale
LBB's Giant Juttia & Kohlapuris Sale has something for everyone - cutesy casual prints? festive-ready embellishments? floral embroidery? Done and done.
If you're a shoe size 42, we've got you covered too - and all under ₹999! 100+ styles to pick from, 15+ brands to explore, here's why you cannot miss this collection...

Handcrafted Square Cut-Out Kohlapuris
This pair will become your go-to if you prefer to keep it simple and functional, and have a hard time finding the perfect size and style. This pair will also help you look effortlessly cool (look at those stunning square-cut toe straps!?).

Plain Denim Kohlapuris
Denim on denim's all the rage right now and if you're looking to jump on the trend - get your hands on these chic Kohlapuris now! These juttis are handcrafted with utmost care to keep your feet light and comfy yet always looking cool. They're available up to sizes EUR 41!
Floral Gota Juttis
Made by impeccable artisans, these simple and tastefully embellished juttis come with a light beige base and intricate Gota Patti handwork on them. This comfy pair will look GORGEOUS when teamed with ethnic or fusion ensembles for a muted element or as a complimentary shoe choice!
Pom-Pom Fringe Denim Juttis
These denim textured juttis from Colaba Causeway have just a *sprinkle* of tiny floral prints and white pom-pom fringe for a cutesy element. Colaba Causeway is one of the best Jutti brands I've come across - they can be a lil' pricey sometimes so this sale is just the right time to cop one of their pieces! P.S. - This one's on 53% OFF!

Rose Embroidered Open-Back Juttis
There's something about open-back Juttis that says elegant - am I right? And when topped with a fun blue and intricate rose embroidery, you just can not pass 'em up. This pick from the collection comes with an extra cushion padding and ensures really good comfort. So if you're heading out for a destination wedding or a long day at work, don't forget to take these with you.

Comments