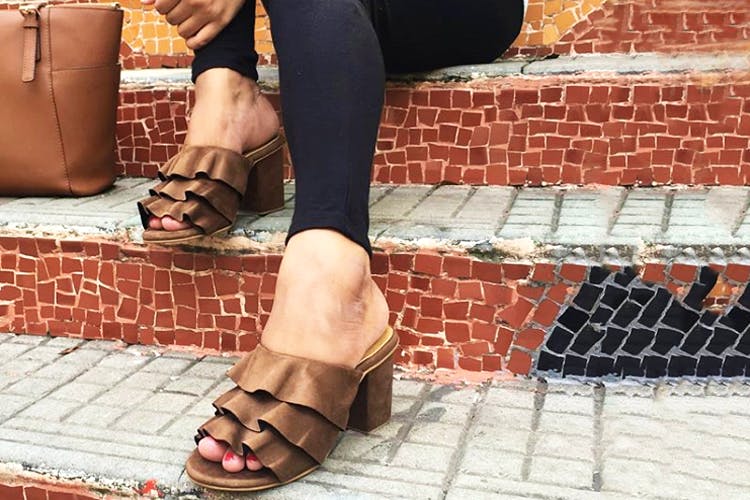 We Found 5 Heels That Are Surprisingly So Comfy
We may be biased, but as much as we love wearing our standout dresses & tops, an outfit really comes down to the little things—and to us, that means shoes. That being said, our bold, statement-making heels don't always make the cut with our hectic 9 to 9 days. So we rounded up 10 heels that'll elevate your outfit without killing your feet...
Tropical Pineapple Heels
Pineapple prints are all the rage this summer, and these quirky heels have taken it up a notch. They're super fun and will make any basic outfit pop! Plus, they're available for a steal on LBB for INR 900 only.

Ruffle Heels
These minimalist ruffle heels will always be in style. You can pair 'em with your basic denim jeans or a formal dress or just about anything. They also come in a stunning brown!

Block Heel Kohlapuris
Kolhapuri heels? No, seriously. These bold and innovative heels are currently trending on LBB. They have a cushioned sole and are super comfy!

Pastel Pop Block Heels
If you're digging pastels this summer, you have to bag these colourful block heels featuring a chevron pattern.

Origami Flower Monochrome Pumps
Wear these black and white pumps with a mini dress or skirt for a cool-girl retro look. We absolutely adore the origami flowers and detailing on them. Elegant and timeless.
What are you waiting for? Add 'em your cart stat!
Comments