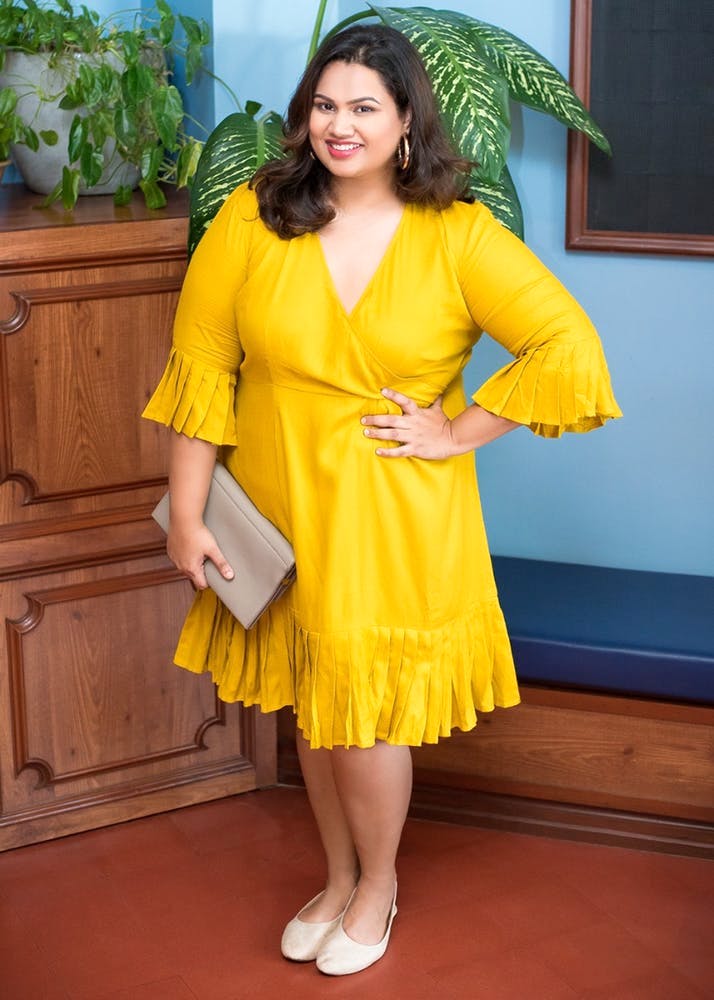 Dresses For All Occasions, Every Body Type And Price Points: The August Co.
When you find yourself stuck in a sartorial rut, turn to The August Co. for some profound style inspo. Your one stop destination for outfits for every occasion - this brand swears by comfy fabrics and anything-but-ordinary styles. Read on to check out my fav picks with tips, you can thank me later...

Ikat Shirt Dress
I absolutely love this happy-hued Ikat dress! It's chic button down style and collar keeps things formal and cinched waist gives a flattering fit too. I'm always looking for three-fourth sleeves that don't fuss around my arms, and this one's engineered just perfectly.

Cotton High-Lo Top
You'll hardly ever see me in whites, but this high-lo shirt has my heart. The collars and sleeves make office dressing so effortless plus the breathable cotton is humidity friendly too! The best part? It's high-lo style doesn't have me stressing when I bend. You know what I mean...
Tie-Detail Mustard Wrap Dress
Forgot to hit the gym this summer? Didn't wax? Don't sweat it. This wrap on dress will sort you out. The Mustard colour is so different from what we generally sport, the frills on the end make it nothing short of a designer outfits and for this price? It's a steal if you ask me...
Double Breasted Tie-Up Jacket
I'm constantly looking for formal blazers that don't say straight out of Wall Street or look too casual for the occasion - so when I found this uber-chic piece on LBB, I didn't myself second guessing. The camouflaged belt looks effortless and the bottle green? SO fresh!
Frill Hem Dress
No matter what body type, this chic frill dress from The August Co. will make heads turn. It's got a really flattering fit - the cinched waist flares into well-knit pleats at the hem (pure genius, right?). I'm obsessed with the bright yellow - instantly puts me in a happy mood, and the V-neck detail? Just the right amount of flirty! I'd never imagined #MadeInIndia doing such amazing work, and at these prices? I'm hooked. Head over to LBB.IN/SHOP and look up this brand's million amazing styles.

Ikat Shirt Top
The August Co. definitely knows how to stitch for plus sizes and is constantly coming up with such versatile, upbeat styles. Like this Ikat Shirt top - works for meetings over coffee, a shopping date or even a informal event - perhaps, a work lunch? Why I love it so much? The flow-y frills and exciting collar detail make me stand out every.single.time.

Ikat Summer Blazer
You can never go wrong with a black and white blazer, and with a lil' Ikat sprinkled all over? No double guessing required. On days when I have to head out instantly, I pair this effortless jacket with a basic black top, denims and accessorise with hoops (always).
Comments