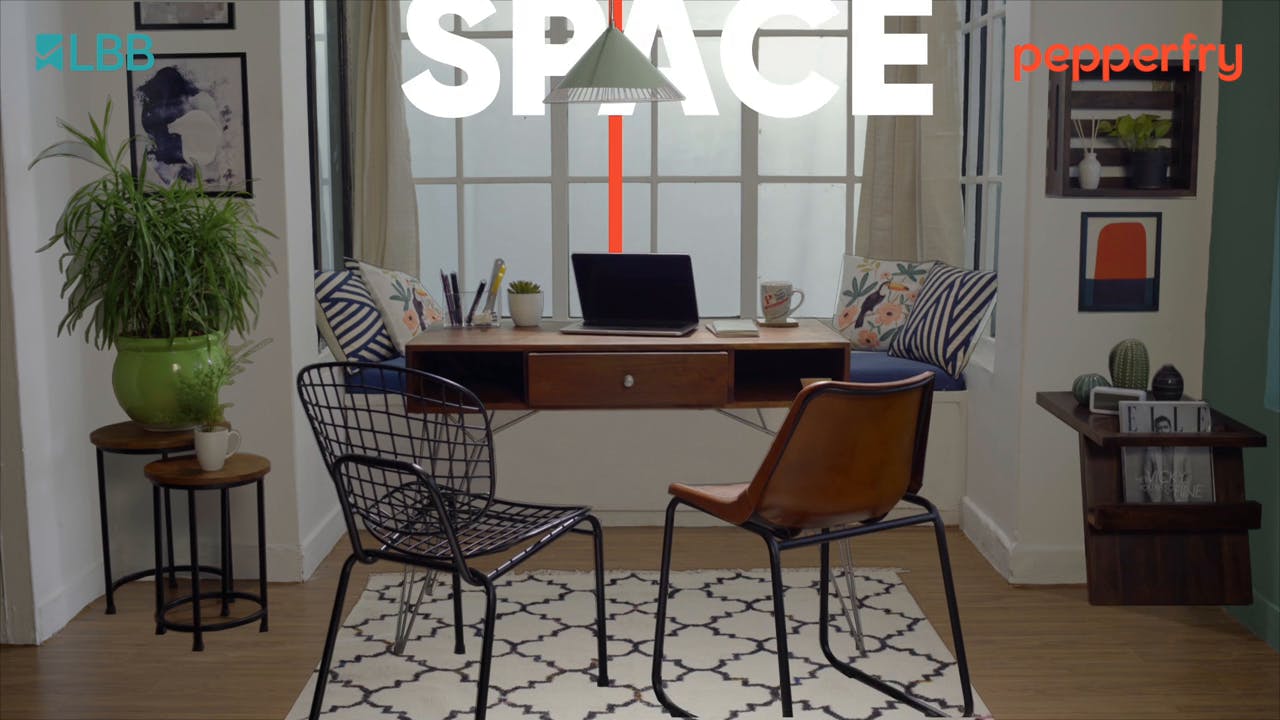 #ShopTheRoom: Add The Spark of Productivity to your Living Space!
In the constantly hustling, fast- paced life that we lead shuttling from office to home, there have been countless times when we wish we could take work from home. With different career paths coming up and freelancing opportunities on the rise, work from home is now a normalcy. Pepperfry helps you add that extra spark of productivity to your living space by helping you set up your very own Home Office! #ShopTheRoom by pepperfry.com has got your home office covered and will help you hustle all day everyday from the comfort of your own house!

A Touch of Your Personality
A Dhurrie always adds an instant sense of coziness and you-ness. Pepperfry's patterned Abstract Dhurrie by Bohemiana allows you to layer the patterns in your home office while maintaining your own unique sense of aesthetics and ensuring motivation is ever present.

Tackle Your To-Dos Clutter Free
As per Albert Einstein, 'a cluttered desk is a sign of a cluttered mind'. Keep your desk and your life clutter free with Pepperfry's Woodsworth Compact Study Table. The wooden finish of the table adds a rustic and Bohemian vibe to the room. It also comes with additional empty storage spaces which is always a happy plus point!

Brighten Up the Ambience with A Soft Glow
Those harsh bright lights just never seem to work for us, do they? A soft warm glow, on the other hand, makes us feel instantly relaxed and pumped up enough to work. The Hanging Lamp by Casacraft strikes the perfect balance between a harshly bright and soft warm glow. It gives enough light without being extra. Head to pepperfry.com now!

Some Shelves For Extra Beauty? Yes Please!
When setting up any room, the first step is to decorate it and beautify it. Your home office is no better! Productivity definitely increases double when the room has some fun and quirky elements. Pepperfry's Box Wall Shelf with its wooden finish adds the feeling of vintage and a rustic look to the home office making it a place with only positive energy. Head to pepperfry.com now!

Add More Functionality and Storage!
A Home Office is incomplete without its numerous papers and files. The Portable End Table By Pepperfry.com is the perfect solution providing the much needed extra space. Its wooden finish matches the Compact Study Table maintaining the same vibe throughout the room.

A Metal Chair to Add a Bohemian Vibe
A Home Office is a place that sounds serious but should actually have some elements which are not so prim and proper. The Sleek Metal Chair by Pepperfry aims to add the casual yet comfortable vibe to the room, making it an open and safe space. Check it out only on pepperfry.com.

Some Side Stools for Extra Seating!
Office means meetings and meetings mean extra chairs. Rather than getting straight backed chairs, Pepperfry offers a better solution in the form of Side Stools! They are casual yet not too casual and occupy very less space making the room look less cluttered. Head to pepperfry.com now!

Spruce Up The Room With Some Patterned Cushions!
Throughout the day, we need that time to revitalise and regenerate ourselves and bring us back in the game. Pepperfry.com brings to you exquisitely patterned cushions that add both some colour and spunk to the room! Check out pepperfry.com now!

So, What We're Saying Is..
Add productivity to your home office and ensure your productivity rises through the roof! Hustling just became much easier! #ShopTheRoom with pepperfry.com and welcome work into your living space with maximum productivity!

Ask pepperfry a question