The information in this post might be outdated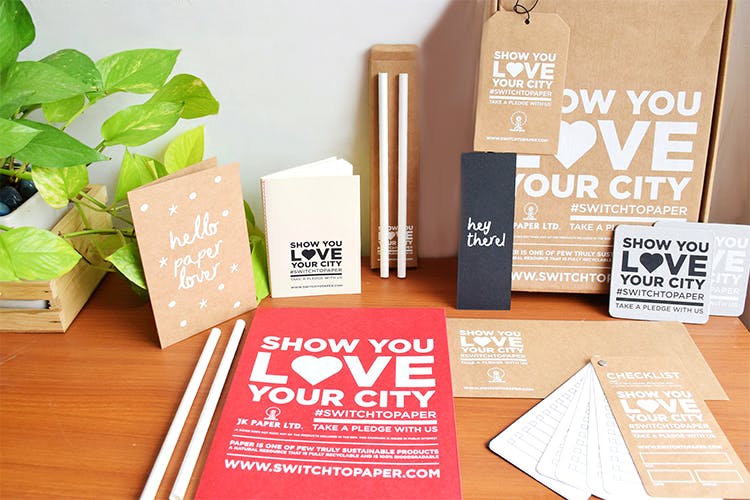 Show You Love your City By Pledging To #SwitchToPaper: Join The Movement Here
What Is It?
The world as we know it is on the brink of change. Some suggest we have crossed the point of no return, yet, most are more optimistic. If there ever was a time to stop and reevaluate our choices and make better ones, it is now! So, it is perhaps the time you show that you care and love the city you live in by making a better choice. And one of the ways to do that is by pledging to #SwitchToPaper. What's more? JK Paper will send a gift hamper to everyone who takes the pledge for being a paper crusader.
Ok, And How Can I Do That?
That's easy. There are a lot of paper-based alternatives in the market that can easily be adapted to our everyday use - from packaging products to shopping bags. Recently, JK Paper took an initiative with selected Cafe Coffee Day outlets across 8 cities to keep paper straws on the counter. Point is, every small step helps to make our cities more breathable and livable for the rest of us. Here's Dia Mirza sharing her bit online, pledging to #SwitchToPaper.
Awesome, But What About The Trees?
There are many myths about paper products and how it affects the trees. Fact is, a paper is an agricultural product and is made using two very specific trees - Subabul & Casuarina, which are grown purposely to make paper. So, no need to worry about running out of trees because of paper products. In fact, companies like JK Paper, when they harvest a tree, 5 more trees are planted in its place. It's more than just sustainable, its' actually the need of the hour and a smarter choice, given that paper is 100% recyclable, and biodegradable.
Great, I am In!
Awesome, just head to #SwitchToPaper and take the pledge to win a gift hamper for being a paper crusader from JK Paper.
More Information
JK Paper Ltd
Nearest Metro Station: ITO
Comments