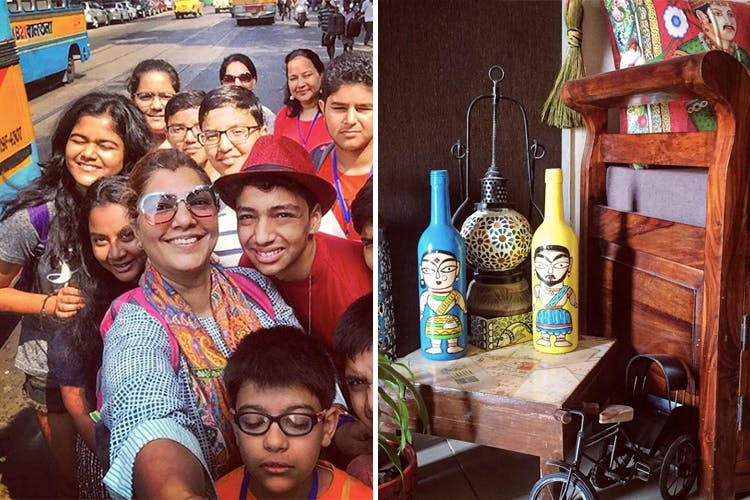 Sumedha Works With Special Kids To Paint Walls, Decor Or Anything At All
Shortcut
Noida-based NGO person and special educator, Sumedha is no artist, she claims. She took to painting and arts and crafts in an attempt to engage a bunch of (about 40 of them) children with special needs. Together, they run a brand called Hastkari that sells handpainted trays, shoes, bookmarks, coasters, lamps, bags and more.
Great For
One-of-a-kind decor pieces, crockery, handicrafts, storage boxes, planters and more.
What Makes It Awesome
The NGO, called Aarambh - The Children's Workshop, is what takes up most of Sumedha's time right now. Hastkari though, is a creative pursuit where she and her children (yes, she calls them that and is surrounded by them from 2pm onwards) play with colours to de-stress. Oh, and through all of this, she's got her man Friday AKA Sonu, who runs the show.
So far, she's done Warli art on coasters, kathakali planters, this cute yellow cabinet, bottles, key holders, kettles and earrings. Goes without saying that no two things are the same here. She creates something and puts it up on her Instagram or Facebook page and before you know it, they get lapped up.
She's not averse to taking orders or painting on a canvas you give her (bags, benches, sneakers, pots, shelves etc) and she'll make something fun. Just bear in mind, she won't usually turn down a well-meaning request if she and her children have something to learn from the project. So, hey, try them out without being a stickler or demanding a crazy amount of customisation.
Everything is handmade and has an inherent feel-good factor that comes from knowing that it keeps these kids happy and engaged – and the NGO up and running.
What Could Be Better
Some products are a priced a little on the higher side (hand-painted trays that double up as artworks go up to 2k while the planters are around INR 750). We also would have loved if she could follow through customised orders more often.
Pro-Tip
Sumedha is prompt on Instagram and anytime between 9am-2pm is a good time to catch her for a conversation.
Comments