The information in this post might be outdated
Find Happiness And A French-Style Home At Scarlette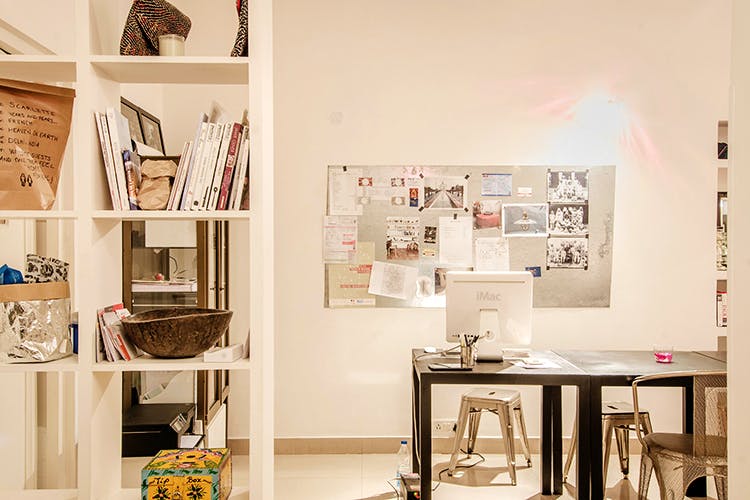 Ten-Second Takeaway
Say hello to Scarlette, a charming boutique homestay in Delhi, that doubles up as a cafe serving breakfast daily, lunch and dinner on request, and coffee through the day.
Colourful Comforts
With an open kitchen where visitors and residents alike can pop in and make a little something for themselves, Scarlette is one of the nicest spaces to get some downtime, if you're in the city. I was first introduced to this quaint, heavenly abode by a friend, and when I finally made my way to the bougainvillaea adorned building in Safdarjung Enclave, I realised it was the new avatar of erstwhile B&B Colaba House.
Now run by Pauline Bijvoet and Elisabeth, the space echoes an entirely different look, and offers the warmth and comfort that a homestay warrants.
Pinterest Perfect
If I had a home of my own, it would look exactly like Scarlette: As if we'd ever say no to French-style windows that look out at Ashoka trees. Add to that a navy and white-themed seating area, replete with flouncy cushions to lay back on, a fireplace accented with rectangular mirrors in different sizes, cut glass vases that hold rajnigandhas, and a massive couch that rests next to an oak-wood table. The whole setting of Scarlette is right out of Pinterest.
The Home
Scarlette has four rooms, and offers the option of long-term accommodation as well for business travellers, tourists, and locals looking for a home away from home. But if you aren't looking to camp out, it makes for the most picturesque way to escape from Delhi…even if it's just for a few hours. They serve excellent local Indian coffees, perfect for while you work or just read a book. Pick music to adorn your quiet candle lit dinner, and expect a generous breakfast spread to kick-start any morning.
Comments