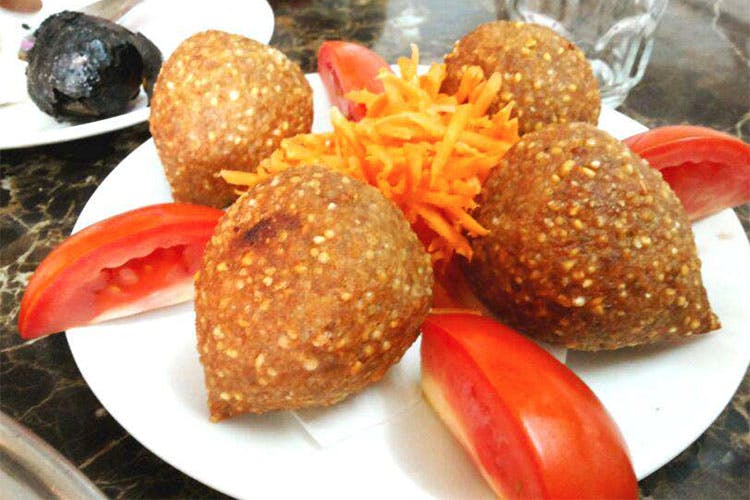 The Middle East Restaurant for Baklava, Kebabs and Barazik
Must Eat
The Baklava and Barazik, which are sesame cookies and chocolate cookies. Also, the biscuits with date centres called Ma'amoul.
Must Drink
Iraqi tea and Turkish coffee
What we loved
The Middle East is a rooftop restaurant—lovely for sitting under the sun during winters, or on a full moon night in the summers. The restaurant is run by Arab expatriates, so you know the food is going to be authentic. What struck us the most was their warmth and the way they make you feel welcome. This restaurant is mostly frequented by foreigners, the food is fresh and the service is prompt; what's not to love?
We would recommend you try the falafel and all the dips. Our favourite was the garlic cream and the pickle. Another to-die-for speciality is the Grilled Chicken, which is served with garlic cream, pickle, humus and salad. We also hear good things about the kebabs.
What didn't impress us
We were quite taken by the location; it's absolutely off the beaten path, but it is also pretty far. Once you find the place though, it's worth it.
What is the best time to visit?
We would suggest visiting the restaurant during the day. That's when all the desserts are freshly prepared.
#LBBTip
For those who love hookah, the restaurant stocks a large number of them, in multiple shapes and sizes.
More Information
The Middle East Restaurant & Sweets
Price for two : INR 600

Delivery Available