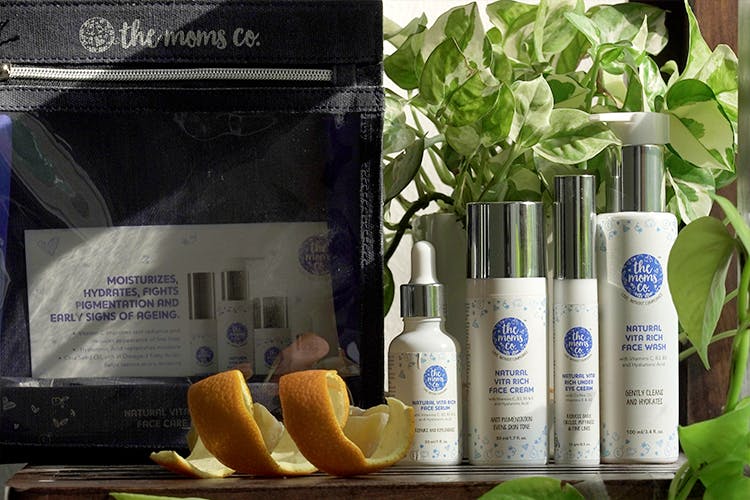 Ditch The Chemicals: Check Out This Brand's Organic Skincare Products
Pick up any skincare bottle these days and you'll find a list of chemicals they're "endowed" with. So if you're also worried about battling the usual stretch marks, pigmentation, breakouts and more with 100% natural and toxin-free products (just like us), check out these lovely products by The Moms Co. Fret not, they're super easy to use despite the busy schedules we live with everyday for a healthy glowing skin.
P.S. You need not be a Mommy to use these products, even though they're super recommendations for them.
Face Wash
If you're someone on the go with constant exposure to the sun and pollution, we know how important a fresh rinse must be multiple times in the day. Bless your skin with this face wash that's packed with Vitamins C, B3, B5, witch hazel and neem extracts and hyaluronic acid with coconut and olive oil-based cleansers. The face wash leaves your face bright and clean. With gentle cleansers and astringents, it is suitable for all skin types.
Face Cream
If you say no compromises to hydrated skin, this Natural Vita-Rich Face Cream has got be your bae. It's water-based and packs the benefits of Chia Seed Oil, Vitamins C-Rich Kakadu Plum & Hyaluronic Acid. The light base penetrates right through the skin to hydrate for the whole day, brighten and fight pigmentation, fine lines & dullness.
Face Serum
Tired of those dark circles and under eye puffiness? Use this face serum to battle away the problems and tighten your skin. It's water-based formula and Vitamin C content goes deep within the skins layers to repair and replenish. It also serves as a great base to put your make-up on. We cannot help but state how important the Vitamins in this serum are for your skin!
Under Eye Cream
Give your under eyes the rest they deserve after all the long days at work! While we recommend the most necessary 7-8 hours of beauty sleep, don't forget to use this Vita Rich Under-Eye Cream. Believe how important coffee is to kickstart the day? Well, even this cream packs Coffee Oil and Vitamins B3 and E to reduce fine lines and dark circles.
So, We're Saying…
Cannot afford to be a Sleeping Beauty? Well, neither can we because work beckons at the funniest times and that's why we're totally buying The Moms Co.'s super handy skincare kit.
#LBBTip: If you're a new Mommy or a Mommy to be (congratulations ladies!), check out the Baby Care range that's available at many maternity hospitals across Delhi, Gurgaon and Bangalore.
Ask Shruti a question