The information in this post might be outdated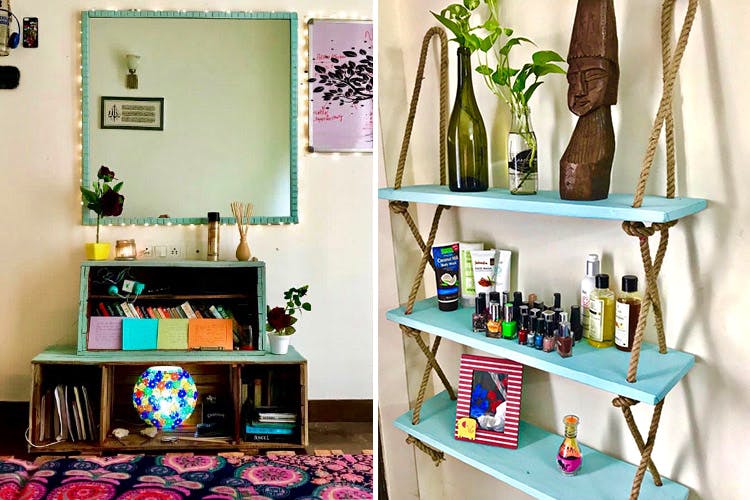 These 20-Something Kids Make Affordable, Customised Wooden Furniture
Shortcut
Sanna and Hardik started making furniture when they were doing their undergrad together. What started as a hobby developed into an amateur Instagram page and now, they regularly update photos of everything they make on _Homeessentials_ from bookshelves to tables, beds and cabinets that's up for sale and open to customisation.
What Makes It Awesome
This home-run venture doesn't have a store, or a workshop. The duo makes furniture in their backyard with discarded wood or wood that's sourced locally. Everything from designing to manufacturing to distress painting is also done by them (with occasional help from their freelance woodworkers). Even though this process gets labour-intensive, the prices are shockingly affordable — things are priced between 2–4k.
We adore the cutely done-up wall shelves strung with ropes, shelves on ladders, side tables, mirror tables, photo frames, beds and more. Also, the use of pastels (hey, distressed teal) brings out the retro, handmade vibe all too well. Add to this the convenience of having everything you see on the page customised to a size and colour that you have in mind.
They deliver orders across Delhi and NCR, and typically take about 4–5 working days to make your furniture available. Also, they're amazingly prompt on Instagram (yay to that!).
What Could Be Better
Since they're only a month old, it isn't the most aesthetic-looking account. The variety of products isn't revolutionary either. Oh, and no website yet. Having said that, they're into doing simple things and doing them well.
So, if you subscribe to that philosophy, you'll like these kids.
Comments