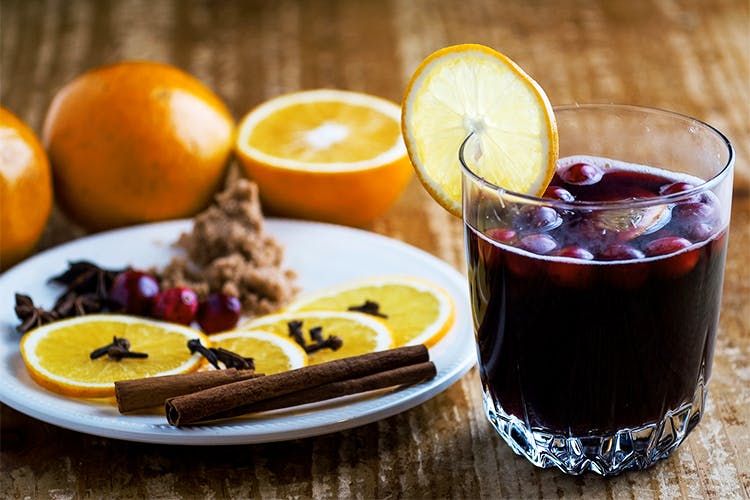 'Tis The Season For Mulled Wine: Here Are 5 Places We Keep Going Back To
For the uninitiated, mulled wine is a warm aromatic drink made with red wine and spices like cinnamon, cloves, star anise, nutmeg and cardamom. There's no better time to try this comforting drink than winter, and, to ensure that you fully realise the power of a potent glass of mulled wine, we're telling you five places in the city we keep going back to.
Old Monk may be a standard winter staple, but perhaps, you could give this festive drink a shot too?
Music & Mountains—Hillside Cafe
Music & Mountains sells close to 100 glasses of mulled wine a day during the Yuletide season, which itself is a testimony to the fact that it's definitely one of city's best. The owner, Amit, tells us that they use a recipe from his childhood in Darjeeling, which is more than 35 years old. Yes, it involves the whole 'secret' spice blend, port wine and brandy, and while they make a fresh batch every day, because of the spices, the mulled wine at Music & Mountains tastes like it has been mulled for days.
Price: INR 595 + taxes/glass.
Perch Wine & Coffee Bar
For once, ditch that sangria or spritzer at Perch, and try their mulled wine with homemade honey, spices, dark rum and red wine. If you only prefer your cocktails chilled, a dupe mulled wine (as we like to call it) is their Home-Made Spiced Wine on Ice. We've heard great things about it, and are definitely trying it on our next visit (which, considering how good it sounds, will be pretty soon).
Price: INR 475 + taxes/glass
FIO Cookhouse & Bar
For pretty-as-a-picture food and a lovely ambience, FIO Cookhouse & Bar in Nehru Place has to be a part of our creme-de-la-creme of choice. Now that winter's here, we can't wait to get our hands on a glass of their mulled wine made using Chillean Red Wine and spices like cinnamon stick and cardamom.
Price: INR 695 (Nehru Place) + taxes/glass
Coast Cafe
The Coast Cafe serves mulled wine by the glass, and uses Fratelli Merlot red wine. The best part? They serve it throughout the day, and all through winter. We're planning a binge-drinking session with friends soon, coupled with their Eat With Your Hands Kerala Grilled Chicken, of course.
Price: INR 340 + taxes/glass
United Coffee House Rewind
Our colleague recommends United Coffee House's mulled wine for being a perfectly-balanced version every enthusiast should try. There are just enough spices, orange-y zest—and these aren't overpowering at all, so you can actually taste the wine. It's just the right temperature, too.
Price: INR 489 + taxes

Comments