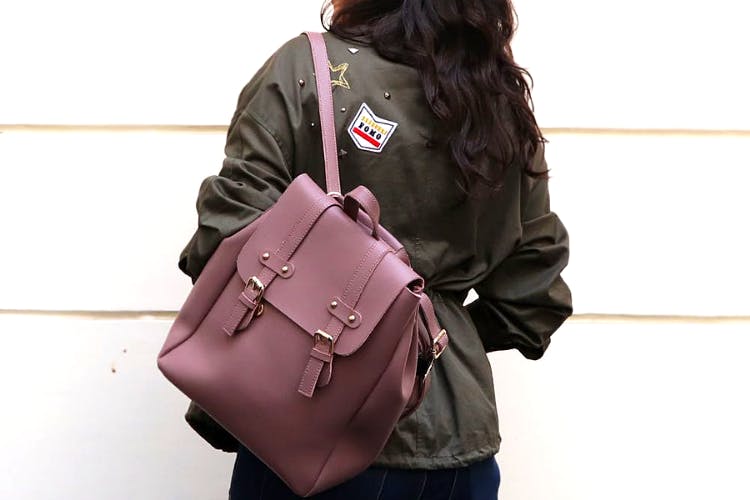 Travelling Soon? These 5 Backpacks Will Be The Perfect Travel Companion
Gearing up for a weekend getaway? A trustworthy backpack is a travel essential you absolutely cannot forget to carry. While satchels and sling bags are great, we feel that it is the good ol' backpack that is the perfect plus one to your duffel/tiny suitcase.
So, here are some of the best-selling backpacks on LBB that you can get for your next getaway (or really, just for life).
Zip Pocket Backpack
A clean design, numerous zipped pockets, and the perfect size, this backpack is a combination of all things just right. It's available in two colours - tan and black, so it'll really go well with all your outfits too.
Price: INR 1,250
Satchel Backpack With Zip Pouch
This product is both a satchel and a backpack, so you can switch the styles as and when you like, but also get the benefit of both. Another good thing about this backpack is that because of its shape, it won't look bulky even if you stuff it with a bunch of things. We also love the variety of colours on offer - military green, black, grey, mauve and teal blue.
Price: INR 939
Anti-theft Waterproof Laptop Bag With USB Port
If you need a heavy duty backpack that can stand the worst of pressures and the test of time, this anti-theft, waterproof bag will be your saving grace. For starters, it's waterproof, has zip-protectors, even comes with a USB port so you can charge your devices on the go and has enough padding on the back and the strap to ensure maximum comfort.
In case you're going for a work trip, get this one right away.
Price: INR 2,474
Coffee Criss-Cross Backpack
This backpack is more on the stylish and design-centric side. The coffee-coloured straps and criss-cross lines across the canvas body add class to the overall look. Just FYI, the body of the bag is made with recycled canvas so you'll feel slightly better ordering this one.
Price: INR 2,715
Lavender Backpack with Double Buckle Closure
Bored of the usual black, blue and tan-coloured bags? Get this lavender backpack. While it's not too bright that it'll look OTT, it's also not that plain/dull so it will still stand out. It's a winner.
Price: INR 649
Comments