The information in this post might be outdated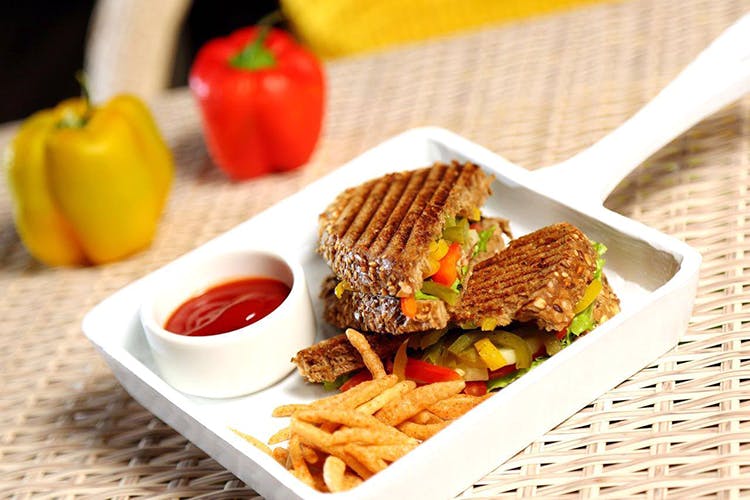 Running Out Of Veggie Restaurants? Check Out The Society Cafe
Ten-Second Takeaway
A tiny, vegetarian-only Italian establishment, The Society Cafe is situated in South Extension and is perfect for a quiet date or a budget-meal.
Chow Down
Society Special Pizza, Spinach Walnut Lasagne
What We Loved
When you step into The Society Cafe, the first thing you notice is the all-white, minimalist decor it's done up in. There's industrial-style lighting and bursts of colour here and there to gorge on, and the music is very soothing and never intrusive; perfect for when you're craving some down time.
Major props for the service; the staff is quite courteous, and the chef pens down all the orders himself.
Veg Me Good
There's a lack of great, veg-only restaurants that also manage to deliver on taste and quality. Thankfully, The Society Cafe doesn't suffer from this problem. The Spinach Walnut Lasagne was equal parts comforting and filling, and we enjoyed the Society Special Pizza despite our fondness for pepperoni.
It wouldn't be a complete Italian meal without a customary pasta, so we suggest you try their pesto variant.
Anything Else?
Only 3-months old and already winning Delhi's veggie community's hearts, the only thing missing here is that they don't serve alcohol. We were quite stuffed before we could make it to the desserts section, but we'll be ordering the banoffi pie and the slightly out-of-place Parsi kulfi the next time we're in the neighbourhood.
#LBBTip
Reservation is not required, but as there's only seating for about 25 – 30 guests at any given time, we suggest you get there early if you want to beat the office crowd at lunch time.
More Information
The Society Cafe
Nearest Metro Station: AIIMS
Comments