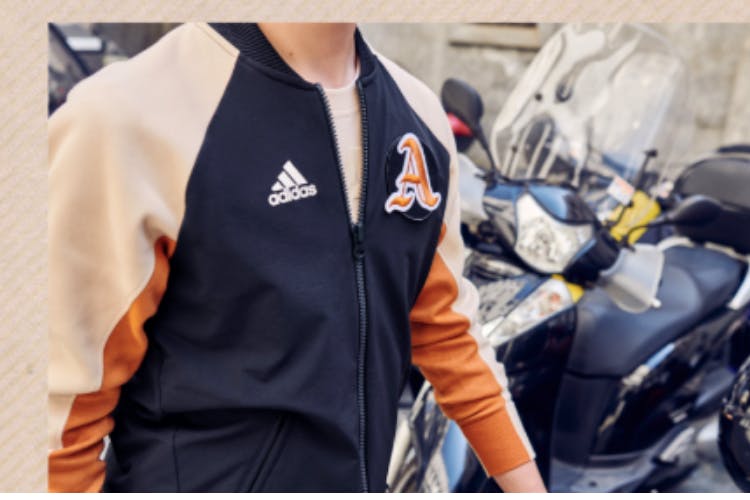 #WeRepresent: The Coolest VRCT Jacket By ADIDAS Just Dropped AND Here Stands A Chance To Win Vouchers For It!
What Is It?
Our life is a canvas of experiences and conversations that truly represent us. Extending that thought, adidas has launched a new collection of #VRCT jackets that represent celebrating what you stand for. In this unique alchemy of celebrations, we're on a journey to uncover real stories behind what connects you with others.
No matter what stand we take on social media, the one place where we truly speak about what we believe in is the texting group that is built on unfiltered conversations. Taking forward the #WeRepresent campaign by adidas, we're giving all of you a chance to tell us what your favourite group of people stands for and what connects you as a group on social media chats. Whether it's the bond of sane cousins who formed a group to get away from family forwards, childhood school friends who can't get enough of nostalgic moments and have spent a decade mocking each other, work colleagues who share a bond beyond work or even a group of like minded people who share a common passion; we can't wait to hear your story!
Who Is It For?
All of us are added to a zillion chat groups on social media but there's always this one group that is closest to your heart and doubles up as your 'safe space'. From families, friends and colleagues to groups that are closely knit via their passion or beliefs; this contest is for anyone and everyone who believes in celebrating what they stand for as a group.
Why Should I Participate?
In addition to being a part of #WeRepresent campaign by adidas and sharing your stories, you will also win vouchers for this epic #VRCT Jacket from adidas worth INR 6,999 and personalized badges for your group.
Awesome, How Can I Win?
Have a favourite social media chat group? Great! Hit the "register" button now tell us about your favourite gang, no. of members and what connects your group. We'll confirm your registration as one in the running via email along with a personalized group DP that represents your group. Brownie points if you upload the image as your group display picture and send us a screenshot of the same! So what are you waiting for? Go sign up now and let's get the stories flowing.
Terms And Conditions
1. This "We Represent" ("Offer") is an offer promoted and conducted by adidas India Marketing Pvt. Ltd. ("adidas") on the website www.lbb.in ("Platform") within the territory of India (except the state of Tamil Nadu) wherein the persons registering and participating in the "We Represent" contest will get an opportunity to win a voucher worth Rs. 6999/- redeemable against purchase of adidas VRCT jacket.
2. In order to be eligible to participate in the Contest, the Participant(s) need to register and share their "We Represent" Story on the website www.lbb.in during the offer period.
3. The Participant is required to participate in the Contest between September 12, 2019 till September 25, 2019.
4. Winners will be chosen based on the quality of their entries/stories, at the sole discretion of adidas and LBB and such decision shall be final & binding on all participants.
5. The Winner(s) shall be contacted by LBB through a direct message on the email ids provided by them, within 2 days from the date of closure of this Offer.

6. The voucher worth Rs.6999/- is redeemable against purchase of adidas VRCT jacket at adidas stores in India.

7. adidas reserves the right to withdraw or cancel this Offer at any time. The Offer cannot be clubbed with any other offers, schemes or discounts and cannot be exchanged for cash.

8. Participation in this Offer is voluntary. Participation in this Offer constitutes acceptance by the Participant of these terms and conditions.

9. By participating in the Offer, each Participant represents and warrants that he/she is legally competent to enter into binding contracts under applicable laws. By taking part and/or entering into the Contest, the Participant Warrants that all information provided by the Participant regarding its name, date of birth, state, city, address, phone number, etc., is true, correct, accurate and complete and that the Participant is authorized to provide such information and consents to the use of such information, including inter-alia personal data, by adidas, its affiliates, consultants, business partners, agents and/or its event management company for marketing and promotional purposes or otherwise sending communication materials to the Participant, through including but not limited to, direct mailers, emails, short messaging service and/or telephone calls. For such purpose, Participant shall be deemed to have given his/her consent to the transfer of all or any personal data to any location within or outside India.

10. adidas reserves the right to take photographs of the Participants(s) shortlisted/selected under this Offer. Participant(s) shall not have objections to media publications of such photographs as may be undertaken and/or as may be commercially used by adidas. adidas shall not pay any royalty/fees/compensation and the like to the winner for using the photographs and/or any other media coverage as may be deemed proper by adidas.

11. Offer shall be void where prohibited by law.

12. Failure by adidas to enforce any of its right at any stage does not constitute a waiver of those rights.

13. adidas is not liable for any consequences of Participants(s) error including (without limitation) costs incurred. Participants agree that due to the nature of the Internet transactions the email may be subject to interruption, transmission blackout, delayed transmission and incorrect data transmission and adidas shall not be liable for any loss arising thereto.

14. The Offer is conducted on 'AS-IS' basis and subject to change without prior notice. By entering the Offer, Participant agrees that adidas shall not be liable for any claims, costs, injuries, losses, or damages of any kind arising out of or in connection with the offer/ Contest (except any liability which may not be excluded under applicable law).

15. The Participant hereby agrees to indemnify and keep adidas, its associated companies, its event management company and their respective directors, officers, employees, contractors and agents, indemnified against any and all losses, claims (including but not limited to third party claims), injuries, costs, fees, fines, penalties, taxes, charges and any other liability arising out of any act of omission, commission, fraud, negligence or misconduct by the Participant.

16. Decision of adidas in relation to the Offer and matter incidental thereto shall be final and binding on the Participant. Dispute if any in respect of the Contest should be sent in writing to adidas India Marketing Private Limited, Plot No.53, Sector-32, Institutional Area, Gurugram-122001, Haryana, India. The existence of dispute, if any, shall not constitute a claim against adidas. Any and all disputes, controversies and conflicts ("Disputes") arising out of the Offer shall be referred to a sole Arbitrator to be appointed by the director of adidas in accordance with the Arbitration and the Conciliation Act, 1996. The venue and seat of arbitration shall be New Delhi and the language used in arbitral proceeding shall be English. Any and all disputes in regard to the Offer or any matter incidental thereto shall be governed by the laws of India. Subject to the dispute resolution procedure as set out here in above, the courts at New Delhi shall have the exclusive jurisdiction in respect of all the subject matter with relation to the Offer.

Comments