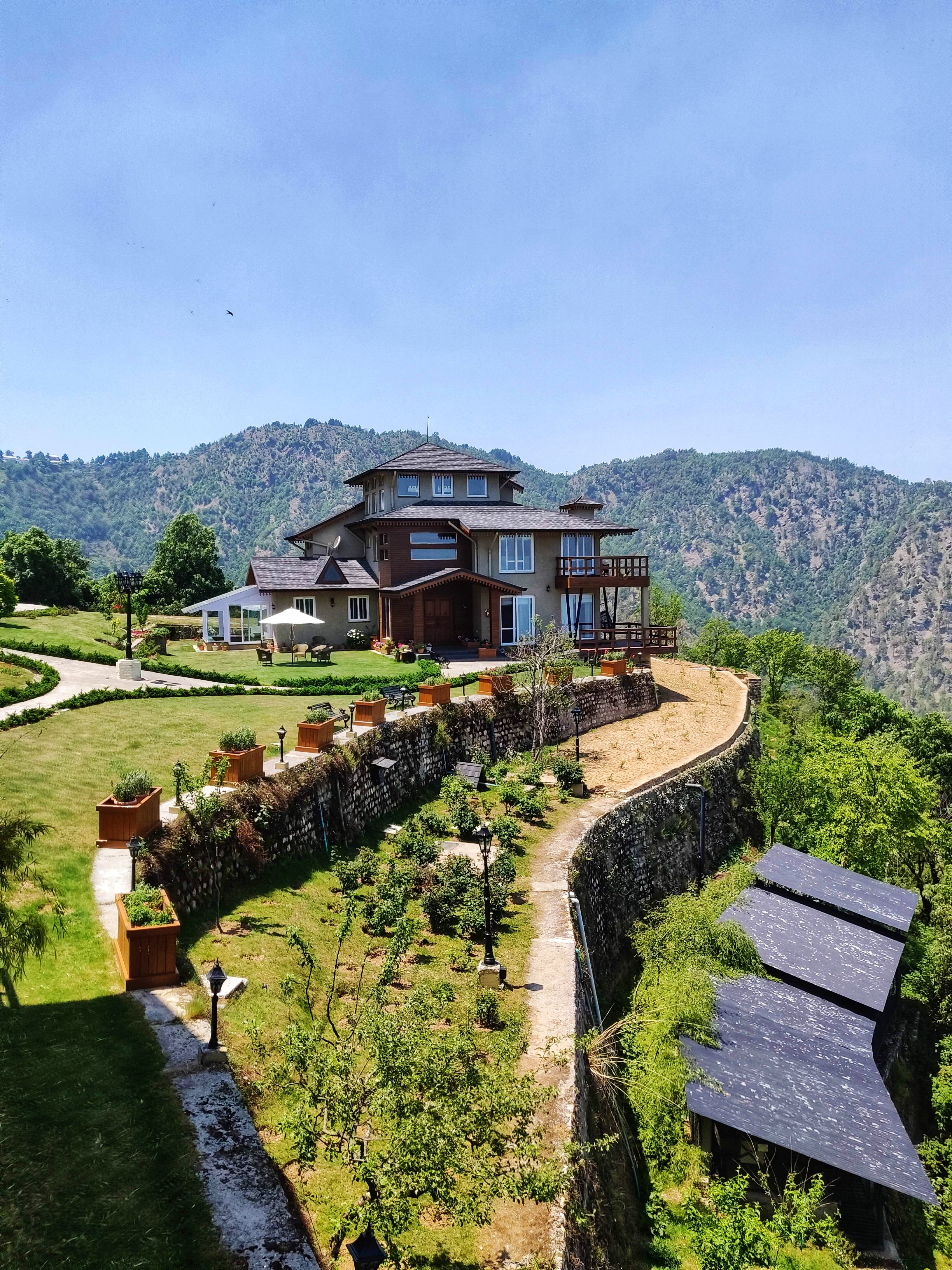 Snowy Mountain Views & Colonial Villas: This Estate Is The Ultimate Getaway
What Makes It Awesome
A lot of things make Kaudia Estate in Kanatal, Uttarakhand awesome, to be honest. I'm not somebody who is big on the hills (the rickety, nauseating drive to get there seems more trouble than it's worth). But this time, even though my trip was short, I didn't regret the four hour drive from the Dehradun Airport (of course, there was always a Maggi-and-momo stop accounted for in the ride up there) to this gorgeous property high up in the hills. I rarely write reviews where I gush; There's always something I've felt wanting for (like any discerning human might), because nothing is perfect. But here (and I'm apologising in advance), I'm going to gush. I was legitimately blown away. Granted, the beauty of the hills is already pretty breathtaking, but in my two days at Kaudia Estate, I felt like I was living in a postcard from Switzerland. From the three, beautiful gingerbread house-esque villas that the property has, to the sweeping view of the tree-covered hills, set against snow-capped mountains in the far distance—it's like stepping into Roald Dahl's childhood. The villa we were put in (you can book out a whole one, a floor, or just a room, depending on your plans and the number of people) was absolutely magical. Of three villas done up in three different styles, the one we stayed in was by far my favourite. There was one done up with chic, modern furniture and interiors, one done up in quaint, colonial-style interiors (the one I was in) and the last was a mix of the two. Each home has a large, open kitchen, two patios (one open, one glass) on each floor, two large living rooms (one on each floor again), and bedrooms with either one of the patios attached, or giant windows smack dab in the middle of that spectacular view. While the villas are phenomenal (and your only recourse at night, because the estate is isolated), you should spend your days strolling around the property (rife with flowers, pretty benches, and an Insta op a minute) and hiking up the hills close to it (they send a member of their staff with you who intermittently offers you water and saves you from death by falling, should the need arise). You can also picnic in some of the hiking spots, though you can only take vegetarian food up their with you (to not attract wild animals). If you're not outdoorsy, you'll still love the sense of peace there is at this place. It seems wrong to even play music that will interrupt the sounds of the wind on the trees, and the chirupping birds. I'm a Netflix addict, and I barely turned on the TV this trip because it seemed wrong. Only a book, curled with in a corner or stretched out with on the lawn, seems appropriate in this mesmerising peace. Lastly, the meals were a big sell for me. All home-cooked by the staff and the owner himself, you can expect well-made home-style food at this property. I'm still craving some of their keema puri, their local-style kalegi (liver) and their fried jumbo prawns. For dessert, ask for the fresh fruit custard or sooji halwa, though I preferred the former to the latter. And, naturally, don't to forget to get a drink to top it all of from the bar inside your villa.
What Could Be Better
I wish there was a closer flight, because the drive is intense and steep. But I will admit it was worth it. It's also definitely expensive, but in this rare scenario, I genuinely believe it was worth it.
Comments