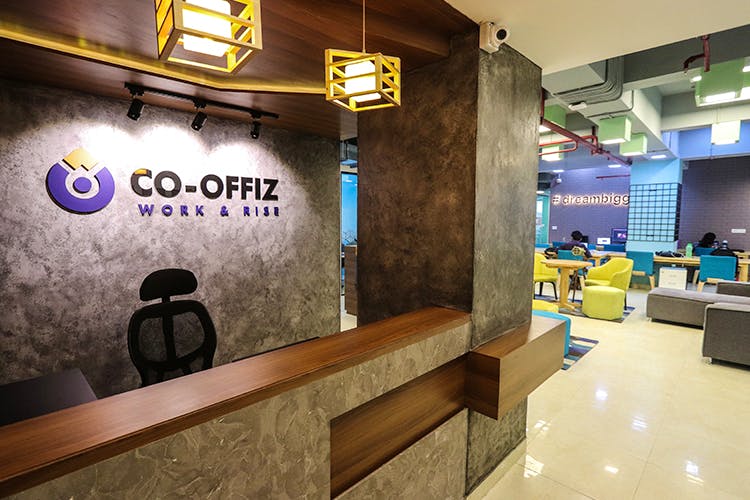 Nearest Metro Station:

NIRMAN VIHAR
#WorkAndRise: 5 Reasons Why This New Co-Working Space Will Get Your #WorkModeOn!
Janakpuri just got a brand new swanky co-working space called CO-OFFIZ with a which provides a hassle-free environment and world-class amenities. They've got offices located in other areas in West and East Delhi as well, each of them just a stone's throw away from the closest metro station. And this is just one of the reasons that make it a great spot to work. Keep reading to know the others.
Young Vibes
It's all about start-ups. Which means companies today need an ideal combo of vibrancy as well as calmness in their environment. CO-OFFIZ aims at providing a workspace that is not just efficiency-driven but also warm and hospitable for all the agile and curious minds. Plus, they also keep things exciting by constantly organizing many events right from cultural festivals to business networking parties to medical camps to growth hack events and more.
Get It All
Their meeting rooms and conference are spacious, lively and very well equipped with L.E.D TV, projectors, ergonomic chairs and enough space. Whether you like working in a slightly open space or in your own privacy, you can also opt for their flexible seats, dedicated desks and private cabins that too at a very reasonable price.
Need A Break?
The cafeteria has gotta be the most important space in your place of work. Up for a midday gossip sesh? Grab a cuppa joe and head straight for the break room. Need to reset your head? Whip up a soothing chai with basic munchies and distress. Plus, every once in a while you'll also end up interacting from random people from various different organisations which could turn out to be pretty interesting.
Easy Commute
Located in convenient locations like Janakpuri, Preet Vihar and NSP, one can get easy access to CO-OFFIZ as each of them are merely 100 metres away from the closest metro station.
You Go Girl!
We absolutely love the fact that they support women entrepreneurs. Created by 2 women entrepreneurs, they naturally understand what an aspiring businesswoman goes through and they are trying to make things a wee bit easier for her by providing her this space at special discounts. If you're one of them, then you definitely must hit up these folks.
So, We Are Saying...
Waking up on a Monday and heading to work won't seem so dreadful anymore. Their community includes rising professionals, hardworking freelancers, enlightened and social entrepreneurs, mid-sized start-ups that comfort to create a vivacious community - and you want to be a part of it!
Comments
Nearest Metro Station:

NIRMAN VIHAR
Other Outlets
Nearest Metro Station:

NETAJI SUBHASH PLACE
Nearest Metro Station:

JANAK PURI EAST