The information in this post might be outdated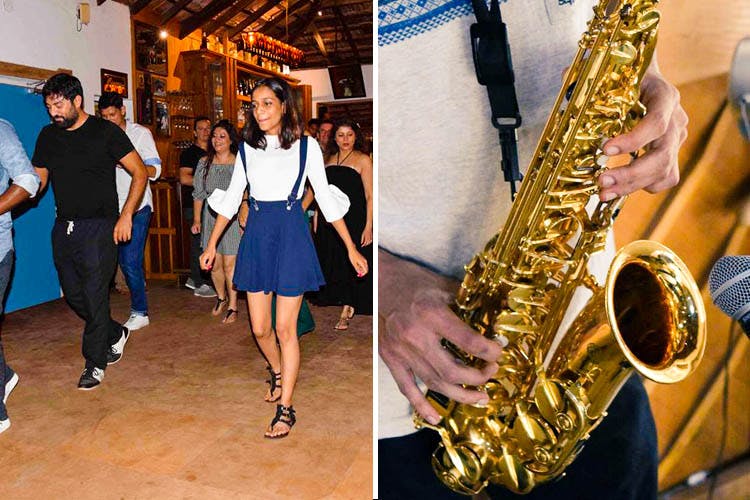 Line Dancing, Free Bottles Of Booze & More: Spend Your Saturday Nights In Goa Here
Shortcut
You might already know about the legendary nights at Cavalas. But have you heard about line dancing on Saturday nights?
What's All The Hee Haw About?
So thanks to all the American and especially country movies we grew up watching, we always wondered what Line Dancing was all about, and last Saturday we found out.
Don't worry if you don't have a partner – this dance is more of a group activity and they have very simple steps. So come wearing your cowboy boots and Stetsons, and give Miley Cyrus a run for her money.
These Saturday nights are the brainchild of country music lover Sabby who plays with his band Smooth. And since Cavala's original owner 'Did Start the Fire', looks like Marius his son is all set to start another one.
Tell Us More
The best part is that young, old, single, couples anyone can participate and it is really easy to learn since it is just a few basic steps done in line formations without having to hold a partner. Thankfully they played the music at a slow tempo in the beginning to let us learn the steps, but once we had got the hang of it, there was no stopping the band or us.
And though we love country music, there is only so much of Willie Nelson or Garth Brooks that we can listen to. Fortunately, Smooth kept mixing it up with soft rock, reggae and pop sounds, but still kept the line dancing tempo going. So at one point we were even line dancing to 'What A Feeling' and I was ready to let lose my week's troubles away.
And don't be surprised if Sabby is suddenly amongst the crowd singing and dancing away, or photo bombing every selfie. Plus the ever-generous Marius gets caught in the fun and is handing out complimentary drinks if he thinks you are the best dancer or even a whole bottle of gin if you are the best dressed.
Anything Else?
So Tex Mex food is the flavour on Saturdays. They also are setting up a kiosk, which will let you borrow hats, sombreros, ponchos etc to wear on Saturday nights. A photo booth, Wall of Fame etc are just some of the other fun things planned for Saturday nights. And Ozzy my favourite bartender always ensures your glasses are always full.
#LBBTip
So we say the next time you are in Goa, put on your cowboy swag and swagger in to Cavala's for a fun and unique Saturday night!