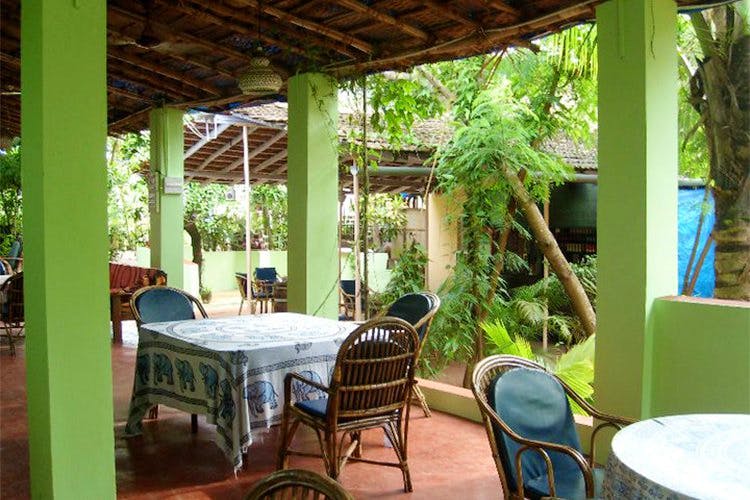 When In Goa, Visit Sri At Vagator For A Delectable Breakfast Amidst Lush Greenery
Shortcut
2017 is full of holidays, and if you're planning a getaway to Goa, then a visit to Sri Restaurant at Vagator is a must. A unique setting on the quiet hill side of Vagator, Sri comes as a highly recommended breakfast spot by many. The ambiance will immediately make you fall in love with the place, and from there it's all uphill.
Nature-Lovers Ahoy
At first, Sri will remind you of a large colonial bungalow that has been converted to a commercial space, but this popular spot boasts of a big shaded courtyard covered in thick green foliage that acts as a great camouflage and makes it impossible to spot from a distance. Cats and dogs make for great breakfast company. The location, high on a hilltop, is superb. This place is apt for nature lovers. Large groups of friends are commonly seen enjoying the place, while solo travelers enjoy the quieter spots in the garden. Plants of all varieties, both local and exotic, adorn the place. The restaurant is an absolute delight with it's large courtyard, green, clean and fresh décor and attentive service.
Chow Down
We ordered for a basic breakfast – a roasted paneer salad, French toast, coffee, milkshake and scrambled eggs (with toast.) The roasted paneer salad and French Toast caught our fancy. The salad comes with salad leaves and citrus fruits, along with fried paneer, and is a mix of tangy, sweet and salty flavours. Our favourite though was the French toast and scrambled egg combination as the flavours exploded in the mouth to give something absolutely exotic. The toast came with sprinkled cinnamon which earned them brownie points.
Anything Else?
There's ample parking in the area. So stuff yourself with some great food, play with the pets, and walk down to the side of the hill for a beautiful view of the sea.