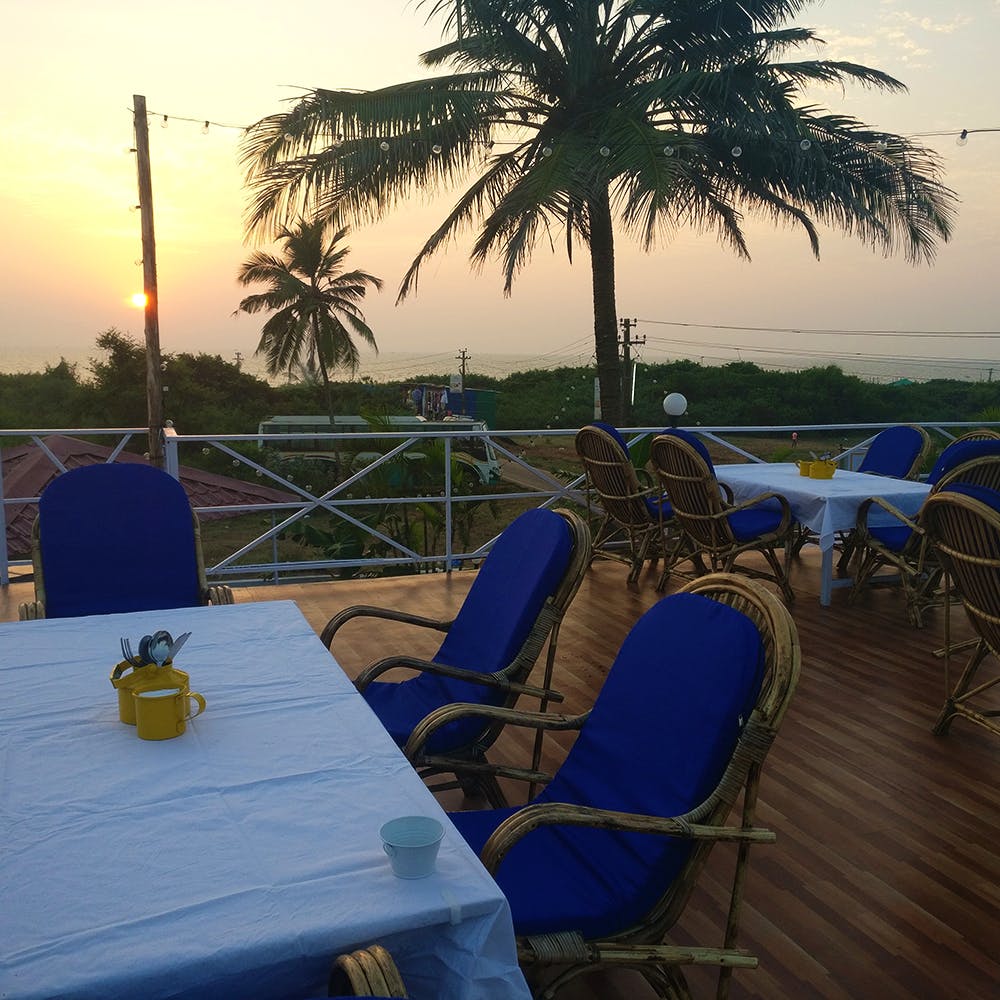 Grab A Feni Cocktail & Watch The Sunset From This Bar In Candolim
Shortcut
The newest restaurant to crop up in Candolim is Cocomo. Of the many things we love here, the most important one is that it's away from the crowded main road. With beautiful field views and yum cocktails, is it a surprise that we had a fun night?
What Makes It Awesome
Akshay and Mrigank (the kitchen whiz) studied hospitality together in Manipal. So when they came to work on this project in Goa, they knew exactly what they didn't want: A spot where bars were drowning out each other's music and a typical, multi cuisine shack menu.
Two months later, they found a property in Candolim that promised uninterrupted views of the fields from dusk to dawn. The street itself was quiet and yeah, none of their neighbours were blasting loud music. This was it, Cocomo had to be here.
We checked out the restaurant on its launch last week and were glad that their menu was equal parts eccentric and experimental. Marrying culinary influences from Hong Kong where Mrigank worked for years with dishes he's grown up eating in Lucknow, resulted in a fascinating mix of dishes. Think rice paper rolls and Lucknawi kebabs and Thai Spiced Chicken Tikka and Green Harissa Pomfret. Get the drift?
The vegetarian half of the table loved the pizza, spring roll samosa (deep fried FTW), Thai Chilli Potatoes and Bang Bang Baby Corn while the carnivore declared the shaami kebabs, fish cakes and Kerala Calamari as his favourites. Oh, and if the Asian and Indian fusion isn't a party for your palate, they've got a section on Goan delicacies including the likes of Prawn Rechado and Chicken Xacuti.
And since we mentioned beautiful cocktails, we can tell you our preferences: Goan Gangsta (this concoction of feni, kokum and local lemon fizz is as solid as its name), Smack My Beach Up (vodka, white wine and a hit of coriander syrup and OJ) and Sizzling Sling Shot (mosambi juice, gin and mint lime get along super well!). For the whiskey loyalist, there's the Cocomo Sour.
While you're still on the cocktails, let us tell you that they intend on hosting live music gigs as well. Aaah, life will be perfection on this terrace then.
Pro-Tip
They've got parking right opposite the cafe so just drive down stress-free and try and make it for the sunset.