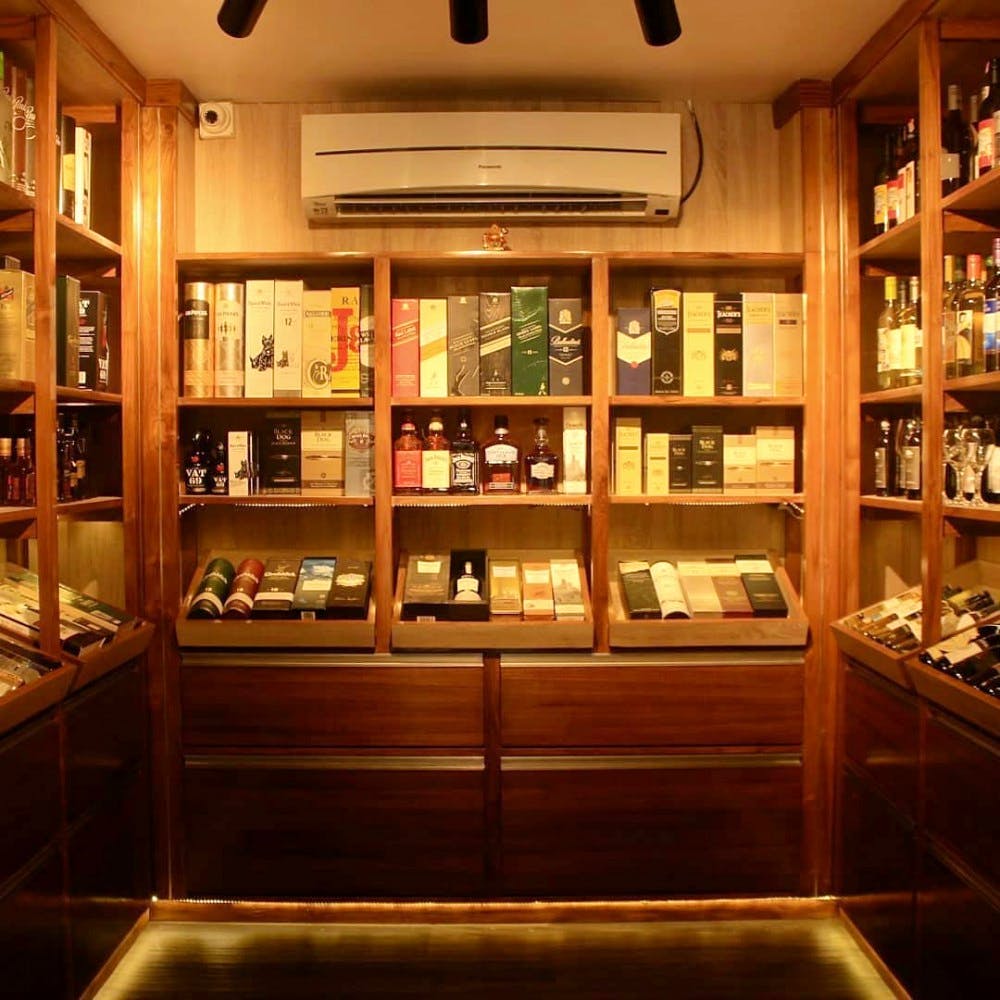 Stock Up On Liquor At These 9 Wine Shops In Goa That Sell For Cheap
If you are buying booze in Goa, especially in the tourist belts then you might end up paying a premium. If you are like us and don't like that, we got you covered with these stores that always charge MRP, so stock up your holiday villa or make sure you pack some local gin, Feni, port wine or other local liquor for that bar back home.
Desai Wine Shop
Desai Wine Shop in Sangolda on the main Chogm Road is where we head to buy all our favourite liquor. They are very well stocked with all brands, accept cards and most importantly, don't overcharge. Since they are on the road that connects the NH 17 to the main areas of Candolim, Baga, Calangute, you are bound to pass it at some point through your vacation. And voila, they are open on all days. If you are heading on Chogm road from Porvorim towards the beach side, then it will come to your right side, just after the Sangolda junction. You can call on +91 84089 76606 for directions or more details.
Delfino's
Delfino's Supermarkets are another great place to replenish your alcohol stock. They are open on all days and accept cards too. They have an outlet in Candolim on the main road that stocks pretty much everything. They have another store in Porvorim on the main highway NH 17 that also has a large-ish selection of wines, gins, tequila, beer and more. While here, you can even pick up snacks, Goan masalas, pickles, sausages for home.
Magson's
The Magson's Supermarket in Caculo Mall, Panjim is another great place to get your favourite tipple. Again, due to excise laws post 10pm one can't buy alcohol but it is definitely a good place to stock on all brands. These guys have other outlets across Goa too, but not all of them necessarily sell alcohol. So check online here before you make a trip. If you're in luck, they also have offers on alcohol on some days. They're also open through the week.
Tom's
Tom's Wine & Liquor store in Panjim is where locals go when they want to buy at wholesale rates. Located very close to the Panjim municipal market, this one is in the Orion building on the General Bernardo Guedes road, just keep in mind that these guys shut early by 9pm and closed for lunch from 1.30pm till 2.00pm. You can call on +91 91526 14744 for directions and other details.
Vaz Enterprises
If you are in the South part of Goa, don't worry we got you covered there too. Head to the Vaz Enterprises Liquor store in Margao for not just your everyday brands but even some pretty exclusive ones. The owners of this store also make the popular Cazulo Feni with its pretty bottle design and the firefly logo. Plus this is one of the most well-designed liquor stores in Goa, made to look like a European tavern. You can also follow their Facebook page here to check when they have some cool offers and other details.
Oxford Arcade
A supermarket that's located bang in the middle of Anjuna, Oxford Arcade has a huge selection of alcohol. From some of the finest scotches and single malts to local Goan and foreign beers, to vodka, gin, tequila or any other liquor you are looking for, Oxford Arcade will surely have you sorted. They often have offers like 2+1 going on the beers, so don't forget to check. Alcohol lovers will love to just walk through the huge wine section just to browse through the collection of Indian and foreign brands that call out to you from the shelves.
Good Luck Wine Shop
Located right at the Vagator-Anjuna crossing, this is a new kid on the block. Despite that, they have some of the finest collection of Indian and foreign brands we have spotted in the area. The shop is housed in the the Vagator Junction building and is almost impossible to miss. Best part — they often have offers going on so don't forget to ask.
Babu Supermarket
When you enter Babu Supermarket, remind yourself that looks can be deceptive. This one, is one of the typically Goan, small family run supermarkets, located right at the Sorro junction — but their collection of alcohol is surprisingly wide. They stock most of the popular beers, wines, whiskey and gin, though not often the more expensive foreign brands. Then why go there? For their summer offers! They have discounts and offers running on beers through most of summer — you'll often find Witlinger (one of our favourite wheat beers) on a 1+1 offer or 2 for rs 100 — and quite frankly that's a steal. We've even found basic wine like Jacob's Creek on their racks, so like we told you don't judge a book by its cover!
Golden Anchor
What have we for you? An exclusive wine supermarket! Located in the south, at Aquem, in Margao, this is one of the most luxurious wine stores we've found in the city. A vast collection of exclusive Indian and foreign wines decorates the beautifully lit store. Honestly, if nothing just browsing through the store is a delight for a wine lover's sore eyes. They indeed have some of the finest wines and champagnes you'll find in the city and a beer collection to write home about. They sometimes do beer tastings so if you're in the area keep an eye out. The folks at the store are super helpful and will help you choose your poison. Want some gifting options — they have this exquisite Love a Bar in a Jar concept — a fabulously designed mini jar with 4 miniature bottles of your choice! Could we ask for more?!
Comments