The information in this post might be outdated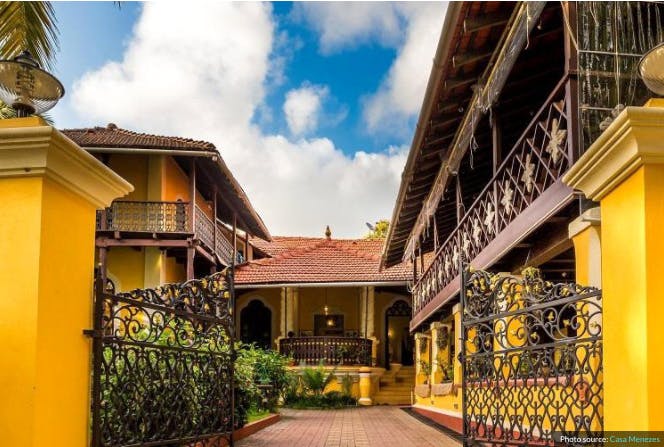 Planning A Quick Family Vacay? These Homestays In Goa Will Sort You Out
While hotels and fancy resorts will do for your annual trip to Goa, when it comes to family holiday scenes, nothing like booking yourself in a nice, cosy homestay. And these charming Goan homestays offer so much more than just heritage villas for your to park yourself at. There is cooking lessons to be taken, discovering the history of sleepy Goan villages in which you will be staying, doing a spot of bird watching and stuffing your face with fresh Goan poi. This might just be your home away from home.
Casa Menezes
Located 13 kms away from the state capital Panjim, Casa Menezes is a heritage home set in the village of Batim. Surrounded by paddy fields, coconut fronds and the village church just five minutes away, this homestay will make you feel like you are staying at a home away from home. This is the 300 year old ancestral home of the De Menezes family, so expect some friendly ghosts and plenty of planchet sessions. Ok just kidding!
Apart from chilling in the lovely tiled verandahs outside each room and eating home cooked Portuguese and Goan meals (on pre-order basis), there's plenty for you to do in and around Batim. Rent a bike and cycle your way around the quaint village of Batim, try your hand at spot of salt harvesting at the local salt pans, or do a bit of bird watching around the Batim lake. The homestay comes with a well stocked library and plenty of movies to watch. So there's plenty to keep your little tykes busy while you chill with a glass of Kings. Casa Menezes is also pet friendly, so please bring along your puppy poo for this family trip. Plus, there's also free WiFi.
Sundays Forever
What if life were to be an endless Sunday of lazing around, with not a care for the world? That's exactly what former television folks Priyanka and Gunjan had in mind when they converted a rundown cottage on a secret river island (village Calvim, Aldona), on a tributary of the Mandovi river, and turned into a gorgeous and secluded homestay. Though the facade of the cottage has been kept intact retaining its rustic Goan charm, the interiors are contemporary and speak of the personal taste of the owners.
While the living room is really cozy with floor lamps, comfortable sofas, and little nooks stuffed with books and artefacts, our personal favourite is the study with a work desk (perfect for starting on that novella), bookshelves and your own little private space to hang. The bedrooms (air conditioned) are equally tasteful and full of colour and warm lighting. The two bedroom villa can be rented out in its entirety and kitchen comes with all appliances and basics you might need.
Amaral's Goan Portuguese Home also known as Cancio's House
Roberto and Raquel run a chaming homestay in their 500-year old ancestral Goan Portuguese home in the sleepy village of Aldona. Far away from the beaches and shacks of touristy Goa, this is where time stops still, because here your neighbours will be the backwaters of the Aldona river, vast stretches of paddy fields and the village bread man, delivering fresh Goan Poi to your doorstep. Do nudge Roberto over a drink to tell you the story of his dashing grandfather and his Russian grandma, and their adventurous journey to Goa. There are two rooms with charming sit outs, plus all the furniture in the rooms are restored antiques. Speed boating expeditions on Aldona's backwaters, visit to Chorao island, watching fresh bread being baked and cooking classes are all part of activity offerings at Amaral's homestay.
Quinta Da Graca
This Indo Portuguese colonial mansion is located in the village of Saligao. The property dates back to the 40s and retains its quintessential Goan vibe. The open plan property offers two cozy bedroom cottages along with four other bedrooms. Expect high ceilinged rooms, colourful tiled floors, antique Belgian chandeliers, four poster beds, and a garden that surrounds the property. Run by a Goan couple, do make sure you get them to tell you stories of the neighbourhood and of a bygone area. The property offers AC and non AC rooms, free WiFi, with complimentary Indian or continental style breakfast. Every room is done up in a different way
The home's immediate neighbours include a chapel, and other quaint heritage homes. The homestay is located just 10 minutes away from the action packed beaches of Candolim, Calangute and Baga. If you are looking to discover the neighbourhood, don't forget to check out Mãe de Deus Church, which sits in the middle of lush paddy fields and is worth a visit simply to admire its gothic architectural style.
Comments