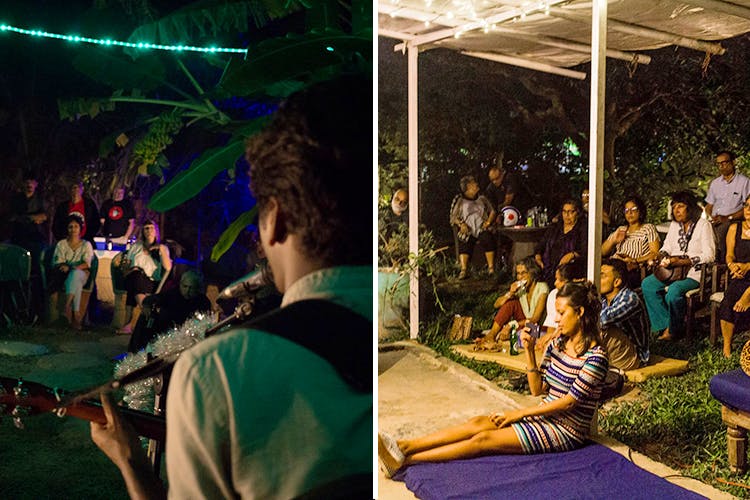 Perform, Watch Or Host A Secret Gig: Sofar Sounds Is In Goa Now
What Is It?
Secret locations, gorgeous Goan villas & gardens, artists, and an audience that is small and intimate. If you have not had the pleasure yet to attend a Sofar gig amongst the 408 cities it exits in already, then check one out on your next Goa holiday.
Not A Secret Anymore
People in Mumbai, Pune, Bangalore, Hyderabad, Chennai, Imphal and Dimapur have known about this secret for a while. Goa has just discovered the pleasure of attending music gigs at secret locations since October 2017. With usually an acoustic or with minimal amplification, these gigs are all about experiencing the magic of music the way it is meant to be heard. So no phones, no conversations, only the soulful melodies that are all original compositions. So go ahead, check it out and you may just never want to attend a crowded concert again. For all the Sofar gigs, the location is kept hidden until 36 hours before the concert. And even then it is only revealed to you if you have registered for the gig and made it to the selected guest list. Why so? Because all the gigs are held at locations such as people's homes, art galleries, etc. with the aim to give them a more personal vibe. And because the space is limited, they can only accommodate a limited audience. The artist line up for these gigs is a secret too, how cool, right?
How Do I Sign Up??
So if you are fed up of listening to only covers, and love original music, and don't mind getting surprised, then register here for their gigs. Plus with 408 cities and counting, you could be assured of a magical experience wherever in the world you maybe. You can even follow them on Facebook or Instagram.  
Anything Else?
The gigs usually last for about three hours, and some of the gigs allow guests to BYOB. They currently do one gig in Goa every month, usually on a Tuesday evenings. Frankly, we cannot wait to sit in a gorgeous Goan villa and listen to some amazing music. PS- No phones or talking is allowed during the performances.
#LBBTip
Artists can also apply on their website for a chance to get their original compositions heard by a whole new audience, check here for more details.
Comments