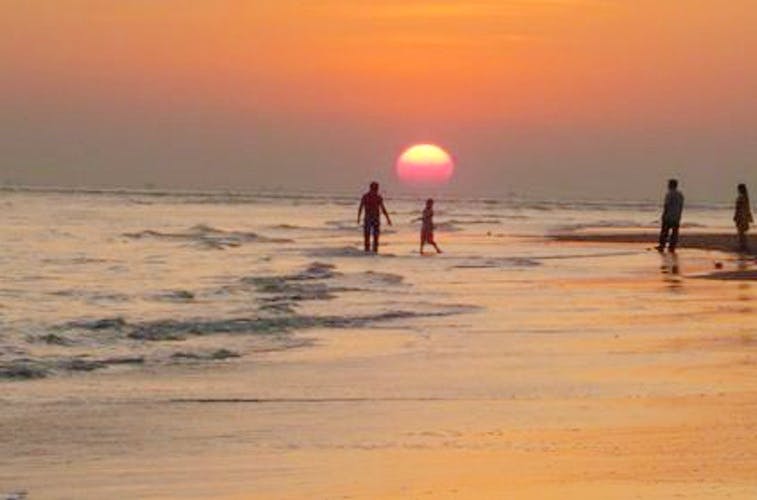 Beaches, Wilderness, Night Camping: Explore Hyderabad's Neighbourhood With These Treks
Adrenaline junkies, are you tired of traveling far away from the city for a trek? Have you ever explored the wild that surrounds your urban jungle? If you haven't, we have news for you! Right from beaches to jungles to natural rock formations, Hyderabad has a plenty of thrill quarters in its neck of woods that quench the adventure in you. So, pack your overnight backpack, stuff in some snacks, get into those trekking shoes and walk into the wild.
Pocharam Reservoir & Wildlife Sanctuary
What was once the hunting grounds of the Nizams has been transformed into a sanctuary rich with animals and birds of different breeds! This 4.5 km trek takes you through the forest where you can spot Bar-Headed Goose, Brahminy Bucks, Open Billed Stork, and more. After the trek, you can unwind at the nearby reservoir built over the Manjeera River. Dip your feet in the gushing water and chat away with your friends. However, we suggest you keep your eyes open as you might spot crocodiles, freshwater turtles along with sloth bear, sambar, nilgai, rare birds, and more. While you're there, you should also try river rafting or fishing.
Distance from Hyderabad: 114 km
Mallela Theertham
Hidden in the close-packed Nallamalla Forests is a waterfall that can make you squeal like a child. This is a fairly easy trek where you have to cross around 380 well-laid steps to reach the waterfall which is at the height of 150 feet. You can indulge in little activities like river crossing, sliding but we have to admit – this is more of a view place than a serious adventure spot. So, if you're looking for a day of solitude in dense greens, we recommend this. The Monsoons get mucky, and the Summers are dry, so, the best time to visit it is between October and February.
Distance from Hyderabad: 173 km
Ananthagiri Hills
Ananthagiri hills, regarded as the Ooty of Telangana is located in Vikarabad, is generously filled with sunflower fields and grasslands. If you've been wondering where those Instagram pictures with influencers in sunflower farms are coming from, now you know it. Unleash the explorer in you and hike through the woods to reach the edge of the valley that gives you a stunning view of the Deccan Plateau. We also recommend visiting the Nagasamudram Lake (a freshwater lake), which is a few kilometers drive from the hills and Anantha Padmanabha Swamy Temple, a 400-year old temple constructed during the Nizam era. It's also popular for night trekking on a clear moon day for spotting owls and wildflowers blooming in the night.
Distance from Hyderabad: 81 km
Antarvedi Beach
Located in East Godavari, Antarvedi Beach trek stretches over 26 km and its difficulty level is moderately medium. The trek along the coastline takes you through the vistas of the sunrise, sunset, and the view of the lighthouse at night is worth staying up for. You'll find company in the form of amicable fishermen and tiny crabs. When you're done with the trek, you can visit the Lakshmi Narasimha Temple, which is situated where the Bay of Bengal and a tributary of Godavari meet.
Distance from Hyderabad: 472 km
As it takes 9 hours to reach Antarvedi from Hyderabad, we recommend this as a proper weekend getaway.
Bhongir Fort
Keep figuring out the shape of the Bhongir Fort from a distance. Is it an elephant or a tortoise? Located 800 meters above sea level, Bhongir (or Bhuvanagiri) rose to fame during the Kakatiya empire. The trek takes you through well-paved rocky steps leading you to the hilltop that houses the ruins of the fort. The beauty of this trek lies in exploring the distressed walls of the ruins with carvings on it, and the cool breeze. Known as a fairly easy trek, you can also try climbing and rappelling but with expert guidance. Meetup regularly conducts rappelling at Bhongir if you want to check out.
Distance from Hyderabad: 48 km
Comments