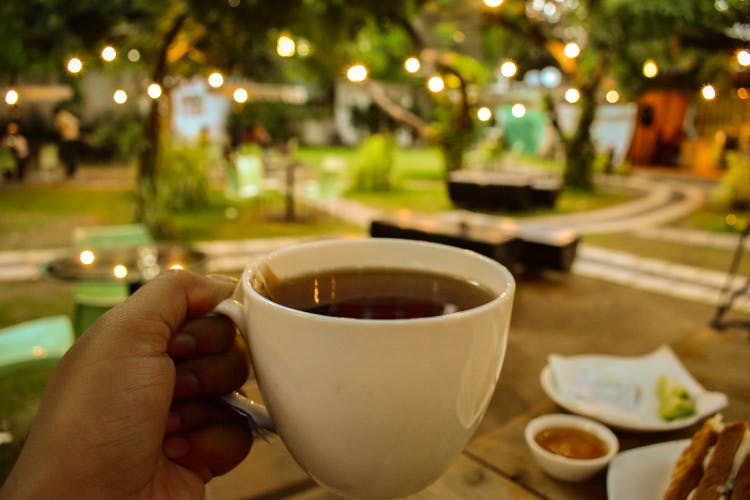 Here Are The Best Cafes To Sip Your Cuppa This Monsoon
Let's admit it — Hyderabad has been waiting for the monsoon and we're thrilled to witness the first shower of the season. Although the rainfall has begun, the romantic in us is waiting for a proper rainfall to relish an aromatic cuppa at our favourite cafe. So, for some good coffee and great views (sounds like poetry), we've made you a list of the best cafes in town where monsoons are magical. Get here with your bae or cronies!
Autumn Leaf Cafe
True to its name, this pet-friendly cafe will leave you in the autumn of spirit. Usually thronged by youngsters and celebrities alike, this artsy cafe's corners and unmatched greenery can inspire you from within. Swing by for a seat under the trees and order a Mocha. Stay till the place lights up in the evening (it truly looks gorgeous), and you're all sorted. We've spent a rainy day or two sipping on coffee while watching the raindrops hitting the window pane, and this cafe tops our list of go-to spots for a monsoon cuppa.
The Roastery Coffee House
Known for its pour over and cold brews, Roastery is where coffee snobs need to head to. Finding a table at this cafe located inside a lovely bungalow is a tricky affair but it's worth the wait. The lush greenery of the outdoor seating and lazy doggos as visitors will keep you company. While we love the indoor seating for the ambiance that includes books, succulents, etc., this season, we urge you to ditch the indoors and grab an outdoor seat right under the trees. If you are someone who enjoys a slight drizzle, this one's the best for you. Ask for their Monsoon Malabar blend and lose yourself in its earthy undertones. But be sure to go with patience to wait for your table.
Kaficko
Brownie points for the all-day breakfast and the larger than life Scrabble board, which forms part of the gorgeous decor (proper Kinfolk vibes this is). You can actually move the giant letters and play scrabble on the wall if you so wish to. Conceptualised by Hyderabadi architect — Sona Reddy — Kaficko will transport you to Europe in an instant. Pick a seat near the Scrabble board for it has a large glass door through which you can see the city. Order a French press and Double Chocolate Pancakes With Salted Caramel Sauce. If you're lucky enough, you can try their Kopi Luwak (if it is available) too. If you're looking for a more private affair, you can always pick the outdoor seating, which isn't great on ambiance but works well for a monsoon evening.
Groove 9
Fellow coffee lovers, would you enjoy a Cappuccino in the company of rabbits? Then Groove 9 located in Sainikpuri is where you should head to. Think of a home garden, modest yet quirky seating, kids frolicking around with their pets, and a fresh gust of wind. Groove 9 is a bit of this and everything, and we vouch for this place because it's not beautiful just around the sunset hour or rainfall, but has a natural appeal that can make you unwind for long hours.
Coffee Cup
The charm of Hyderabad's favourite coffee shop is boundless. Known for its live music and popular karaoke nights, you'll never find an insipid moment here. Your Monday morning blues can be straightened with their breakfast platter, Latte Cinnamon Dust Coffee, and wandering pets. But the evenings are far more other-worldly because the cafe is well lit up and the outdoor seating (although small) has a series of lights that remind you of bokeh photographs. The outdoors are quite cosy and can accommodate very few people, so you and your squad can occupy a massive area. Plus, they have two-seaters on a mini-garden area which are perfect for dates.
Thinespo
Located in Kompally, getting to Thinespo is a long-drive in itself. Started in 2014, this cafe has been a favourite for it never fails to experiment with food. We personally love getting here during the monsoon because of the long drive. Plus, it has a dessert shack where you can grab the homemade ice creams at INR 55-70 or marble cakes, fudges, and swiss rolls that go well with your coffee. The indoor seating is warm and has sepia-toned lights that enhance the ambiance but we're looking at the outdoor seating as it's located amidst much greenery. A cup of coffee, dangling lights, and rainfall at a distance — a joy that can be relived every evening.
W Cafe By Wich Way
Think of outdoor garden seating, all-day breakfast, and your gang of friends. W Cafe in Sainikpuri offers all this and more. The graffiti on the walls remind you of dainty Goan cafes and the interiors are equally lovely with printed chairs, funky cushions with slogans, lights suspended from the ceiling. Wondering what's the best time to visit? Go during the evenings, because the cafe is well lit up and you can take plenty of pictures for your Instagram feed. We love the eggy dishes from Wich Way, and if you haven't been here before, do try the Egg Slut (an egg burger), and we tried the Eggs Gigolo and fell a bit in love.

Chai Kahani
Surrounded by greenery and the sound of students chatting away, Chai Kahani is a tea joint that's plucked right out of college nostalgia books. Great tea and the company of doggos make it even better. The outdoor seating area is spread across the lawn and benches while the indoor seating is quite simple and has around 5-6 tables. The menu is written on a blackboard, so just look through it and order your chai and nibbles.

Comments