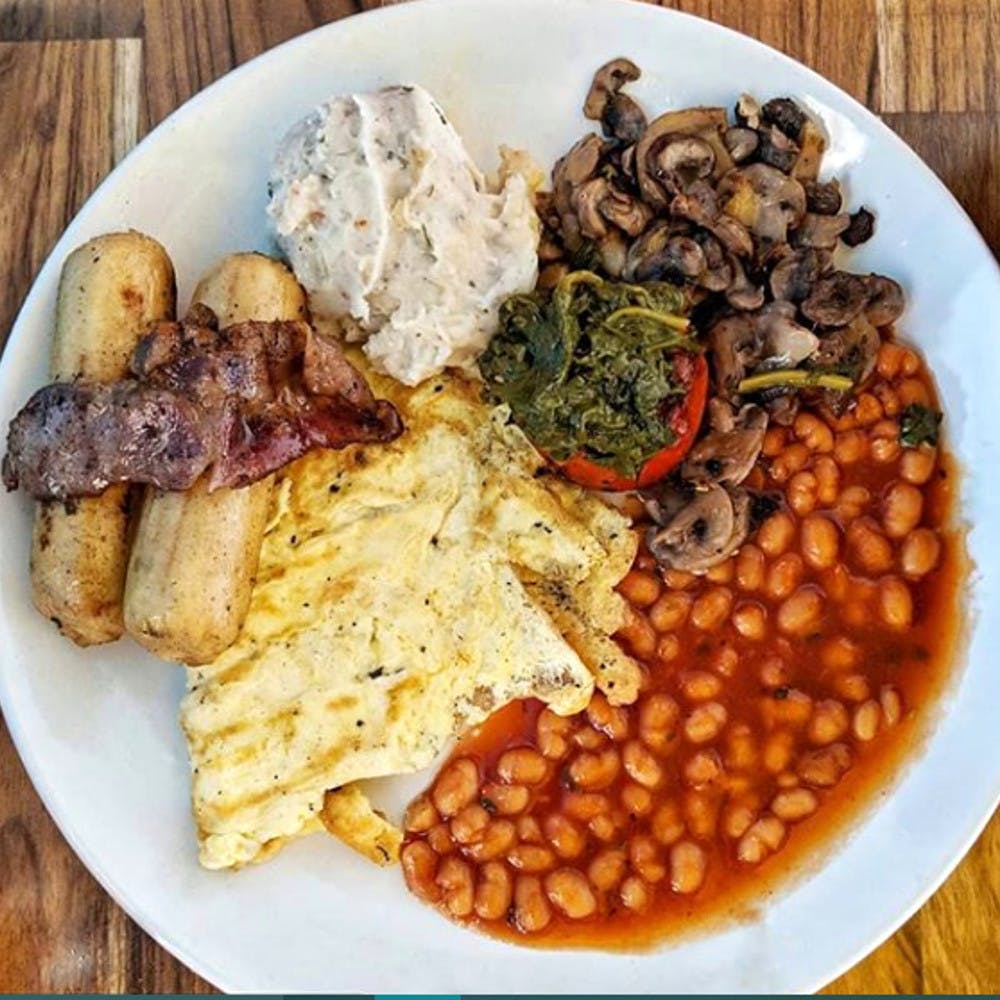 Bacon, Eggs & Beans: Your Guide To The Best English Breakfasts In Town
Do you take your bacon seriously or got a serious obsession with English Breakfast? Jump on to our breakfast wagon that'll help you dash through the streets of Hyderabad for the best breakfasts in town. Bacon, eggs, mushroom — we're telling you all our favourites.
Ofen
We love Ofen for its trim cottage-like vibe and all-day breakfast. Plucked right out of Hansel and Gretel, Ofen has plenty of breakfast options. We recommend the Baked Beans On Toast along with an Americano or Moroccan Mint tea. Ofen also makes a mean dish of spinach, potatoes, and cheese omelette that's served with hash brown and toast. Plus, the Xmas season is when the cafe is decked up in its best. So, don't miss out on checking it out!
Beyond Coffee
Beyond Coffee is one of the first cafes to foray into the breakfast scene and has been owning it ever since. With wonderful paintings hung on its wall which are also put on sale, this cafe can inspire the artist in you. Go for the ambience and Crispy Bacon Egg that's served with pancakes. We also love the omelettes with three fillings of our choice — try the cheese, sausage, and mushroom fillings and ask for a Blueberry Muffin to end the breakfast on a sweet note.

Coffee Cup
Red-brick walls, framed pictures of superheroes, loud but great music, and vintage looking seating — at Coffee Cup, no day is the same. Tucked in a residential area of Secunderabad, this cafe has been a favourite pick to shoot not just documentaries and short films, but also major feature films. Their breakfast options are simple to pick from. The breakfast comes with choices of chicken, egg, and vegetables. Or plain old egg and toast. Served with grilled tomatoes (the best) and sauteed mushroom, this platter is sure to fill your tum. Order their Ethiopian Khawa or Latte Cinnamon Dust to go with the breakfast.

The Hole In The Wall Cafe
The Hole In The Wall Cafe is really a hole in the wall that opens up to a stunning cafe with rocky outdoors, table with swings as seating, interiors with books, and vibrant walls. We heart this cafe for its Veggie Pizza Omelette where egg acts like a pizza base with vegetables and olives as toppings and The Golden Frittata Mix (egg frittata with mushroom, jalapenos, spinach, and more). You can also choose between their Chocolate Waffles or Blueberry Cheesecake Waffles. But don't just take our word for it because this cafe has tons of breakfast options. Go eat and tell us what you like.

The Bake Factory
All day breakfast is always a good idea. Even at 2 am in the night and if you love tons of meaty options, The Bake Factory is your constant. It has a Full English that comes with chicken sausages, mushroom, egg, and more veggies. Plus a coffee or juice of your choice. Want more? Go for the Carnivore Feast that comes with chicken sausages, bacon, pork sausages, pulled chicken, and vegetables.

Autumn Leaf Cafe
True to its name, this pet-friendly cafe will leave you in the autumn of spirit. Usually thronged by youngsters and celebrities alike, this artsy cafe's English Breakfast is lit! Choose between bacon, ham, or sausages, which is served with eggs, mushroom, grilled tomatoes, hash brown, and coffee or juice.

84 Anjuna Shack
Want to gorge on a delicious breakfast in Goa but cannot? With 84 Anjuna Shack, you just might be able to. They serve a large one called Yawn English Breakfast that comes with a sunny-side-up, bacon, sausages, grilled mushroom and tomatoes along with baked beans on a toast. Plus, a juice and coffee or tea are a part of this. Sorted, no? This opens up at 12 pm, so it's mostly a late breakfast.

Comments