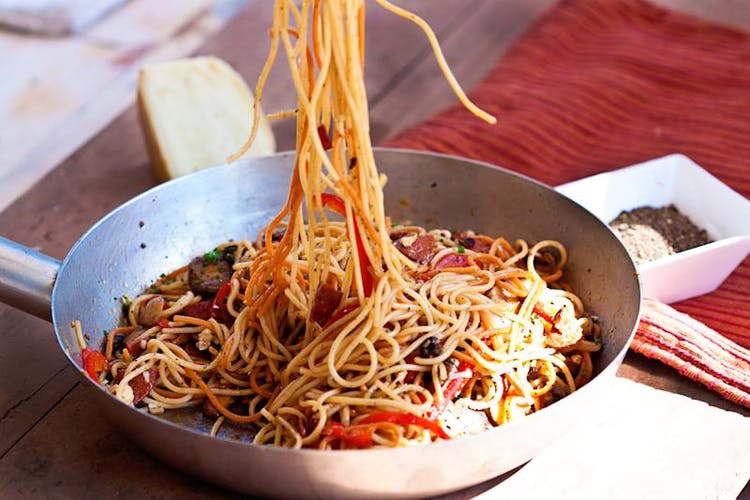 Buon Appetito! Here's A Tried & Tested Guide To The Best Italian Restaurants In Hyderabad
We're all Elizabeth Gilbert when she says "I'm having a relationship with pizza." And with that comes a love for all things Italian. Wondering where to get the best of Italian food in Hyderabad? Here's a list of best Italian restaurants in Hyderabad. Let's eat without counting calories, shall we?
Le Vantage Cafe Bar
From ambience to food, Le Vantage Cafe Bar in Jubilee Hills has got a lot of things right. Seemingly out of a Greek postcard, this place is pretty with plenty of natural light. Sit in the casual dining area, and ask for Spaghetti Aglio E Olio or Pasta Carbonara. Love your bruschetta with an Indian twist? Find it here. You can also check out the delicious Ortolona Peri Peri pizza with assorted bell pepper and tangy peri-peri sauce. It also does breakfast from 8 am, so walk in for a proper Italian brekkie.
Flying Spaghetti Monster
Known for its Italian only cuisine, Flying Spaghetti Monster (in Banjara and Jubilee Hills) is a popular hangout spot among squads. The menu is engrossing, and the pasta here is a must-try. We thoroughly loved our Aglio E Olio and the Supremo Pasta with sundried tomatoes, chicken and ravioli were oh so exquisite. The pizzas are all thin crust, and with each bite, you will find a little bit of Rome in it. Our favourites are the Casa and Sicilla pizzas, and they do have a good variety of shrimp, bacon, fish, and chicken here. We'd reckon to go to the Jubilee Hills branch for its ambience but both the places will entice you with their food, for sure.
Olive Bistro
Olive Bistro in Jubilee Hills is another place where continental food is made to perfection. A Mediterranean-themed restaurant with fantastic views of the Durgam Cheruvu Lake. They have indoor as well as outdoor seating and great music for you to rejoice while you eat your pizza and sip on your wine. The Caprese Pizza always gets a nod from us, and we also love the classic mushroom risotto which is rich and creamy in flavour and served with mascarpone and puffed black rice. Their Sunday brunches are a hit amongst city folks and you can opt for brunch with unlimited alcohol too. Woohoo! Besides, the place gets pretty romantic after sunset when they light up candles. So check this out for a love-struck affair.
Jonathan's Kitchen
Jonathan's Kitchen does brilliant brunches, but the Italian food here is spectacular too. Go here for the Tomato and Basil Bruschetta which is made to perfection with neither too much tomato or basil and extra olive oil. Also, try the Fungi Trifoliate Calzone stuffed with mozzarella and button mushrooms. It's soft, delectable, and filling. Plus, their chef never shies away from experimenting with food. So, if you are there and you want to try out something that's not on the menu, check with the kitchen, and you might be in for a surprise.
Heart Cup Coffee
With various branches spread across Hyderabad, Heart Cup Coffee is frequented for live music scenes and drinkies. However, if you've tasted the food here, you would know that they have amazing risotto, pasta and lasagne. Layers of such Italian goodness packed into one, explore the coffee and soups too. Get their classic Expresso Italiano, a strong black coffee that is refreshing. In the main course, we loved the Penne Verdure pasta the most and will surely be back for more.
Viva Italia
With cutesy interiors and authentic Italian dishes on their menu, Viva Italia is a place you can go to even when you are on a budget. Big enough to seat a small group, go here for Pasta on Pizza (their own creation), which is a scrumptious pizza topped with white sauce penne, onions and bell pepper. This is also a place for quick bites, as you get hot dogs, burgers, sandwiches, eggs, and grills too. Plus, they are always experimenting with their choices of pizza and pasta, so you never know when you are in for a treat while visiting the restaurant.
Little Italy
If you love your share of pasta and pizza, you're totes lucky that Little Italy is an all-vegetarian kitchen that throws an awesome buffet along with a very elaborate a la carte. And may we add, Sunday brunch too? Little Italy is one of the first Italian restaurants in Hyderabad to give us a taste of authentic pasta and after all these years, it's where we often find ourselves for a dinner buffet or brunch.

Ci Gusta!
Ci Gusta! is one of our favourite Italian restaurants and it's located in Madhapur. They make authentic gelato and sorbet along with good coffee. You've got to go all the way out with an All Meat Pizza that has bacon, chicken, and lamb meat. This is a haven for all the meat lovers, and the pizza has goat cheese for the base, making it an amazing treat.
Comments