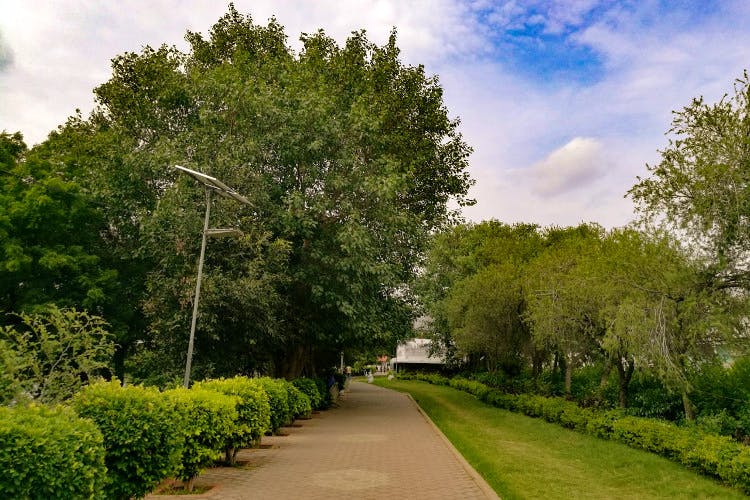 Going For A Run? Check Out These Parks In Hyderabad For Your Morning Walk Or Run
Millennials value fitness differently than the generation before. Today, most people take exercising seriously enough to be consistent at it and to make it a way of life. Be it through gymming, Zumba, yoga or simply running and walking. Hyderabad too is going big on its fitness game and fortunately has several parks to make your life easy. With a lot of people taking to jogging as a part of their daily schedules, it has become quite a trend in the city. It is also a free alternative to working out with expensive gym memberships. So, here's a list of parks scattered across Hyderabad where you can go for a morning jog.
Sundarayya Park
Located in Bagh Lingampalli, this park, although not huge, has a great atmosphere for an early morning walk. You will witness a lively bunch of people doing Yoga every morning. Being here will motivate you to start giving attention to your health and fitness. It also has a walking track where you can walk and jog. If you live anywhere between Chikkadpally to Nallakunta areas, this park is in close proximity, so get here for a fresh start to your day.
Dr. G. S. Melkote Park
This jogger's park spread across seven acres has people of all ages walking in and working out. It has benches for senior citizens, skating rink, a small play area for kids, and a walking track for walkers/joggers. There is an entrance fee of INR 5, and a monthly pass for INR 50 is available too (only for morning walkers). It is free for the elderly. This is a pleasant and well-maintained park which also has a swimming pool adjacent to it. Right outside the park, there are stalls selling fresh vegetables early in the morning. This park really cares about your fitness if you can't tell, already. Bonus? It also has an amphitheatre if you ever want to go here for entertainment.
Krishnakanth Park
Situated around Yousufguda area, Krishnakanth Park is vast and has easy access to people living in SR Nagar, Vengalrao Nagar, Motinagar and around. In addition to a proper running track, this park offers a variety of plantation and flowers. You can also go here for bird photography as it is home to some interesting breeds. It has a huge play area and a few gazebos where you can relax and rejoice. You will often find vendors selling fresh beetroot and carrot juices here. With such a beautiful and nourishing environment – you will not want to miss a day of exercise here.
HUDA Park, Uppal
If Uppal is your vicinity, Hyderabad Urban Development Authority (HUDA) park in Uppal is for you. Early birds wanting to take a stroll at dawn can head here in their tracksuits and enjoy a breath of fresh air. The walking track is neat and there has been a lot of plantation and renovation work done here to make it enjoyable. Kids and adults alike often come here, both in the morning and evening hours.
Sathavahana Park
For those of you put up in Kukatpally and around, Sathavahana Park is an ideal option. A lot of people are here walking, running or cycling in the early morning hours. This park allows pets just in case you wanted to take your doggo for a run as well. It has a play area, but it is not too big. However, kids play here often. This park is very peaceful, but you also get to be amidst the screams of cricket lovers who practice and play here from time to time.
Kasu Brahmananda Reddy National Park
Kasu Brahmananda Reddy (KBR) National Park is easily our favourite park in the city. From its breathtaking atmosphere and greenery to the running tracks, there's a lot to adore. This park is a part of the everyday schedule of people living in the vicinity of Banjara Hills and Jubilee Hills check post. But, folks from all parts of the city claim irrevocable love towards the park. Be it for its outer walking track that is approximately 7kms long, or the inner mud pathways where you can jog amidst greenery, it makes an excellent place for walkers and joggers.

Safilguda Lake Park
Safilguda Lake Park is a popular spot for residents in and around Neredmet to go for a morning/evening walk. Rich in diversity, you will find birds such as kingfishers, ducks, Serbian cranes around the clear waters of the lake. You can get your yoga mats, and attend the free yoga class that happens here every morning at 5am or simply sit in solitude, admiring nature.

Kandlakoya Oxygen Park
Kandlakoya Oxygen Park in Medchal is a green space in the city where you can go for morning and evening walks, as well as for picnics. Fitness enthusiasts, get here for some fresh air and undisturbed yoga sessions. You can also meditate next to the Buddha statue and clear your mind. For those who love having an adrenaline rush, there is a zip line rope that you can ride on for just INR 50.

Botanical Gardens
Botanical Gardens, situated at the centre of the concrete urban jungle that is Gachibowli, is a jungle within itself. Flourished with horticulture, picnic spots, rock formations, and sprawling meadows, this park can switch on your fitness game too with its outdoor gym. There is more than a running track here. While there is a gym that's housed inside a dome with a giant turtle on it, there is also an outdoor dedicated area where you'll find gym equipment installed.

Comments