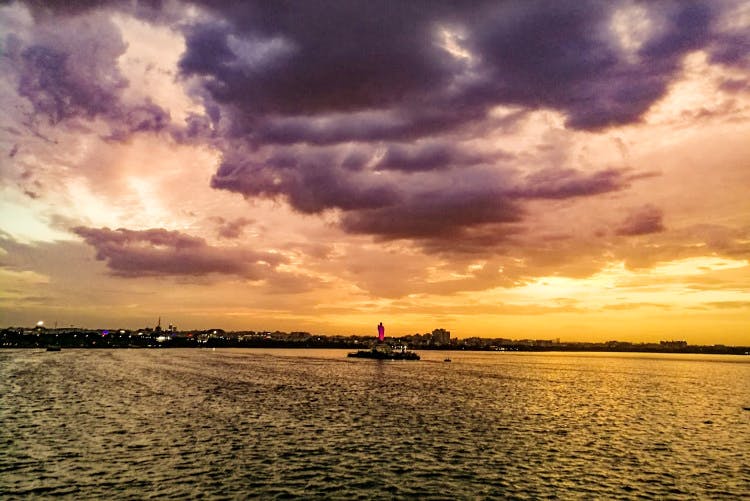 Is Chasing Sunsets Your Thing? These Spots In Hyderabad Are Legit Awesome
Sunsets are beautiful. Don't you agree? Like us, if you love chasing sunsets, welcome to the club. We've curated a list of the best sunset spots in Hyderabad. Take your camera and a fellow sunset lover and hit up these spots!
Moula Ali Hill
Unfettered by the suburban aura and largely isolated,
Moula Ali Hill
is a stunning location with a hilltop dargah. Easily one of the best sunset spots in Hyderabad, a trek to Moula Ali Hill is a fairly easy and rewarding one. More than 500 tombs are scattered around the hill, and you are free to wander around. Plus, it offers a fantastic view of Hyderabad.
Whisper Valley
As you drive down towards Whisper Valley in Jubilee Hills, you can gawk at a mix of old architecture and the new. From the domes of Qutub Shahi Tombs and the Golconda Fort to houses spread across a vast area, watching the sunset over these iconic heritage spots is a lovely experience.

Up - The Rooftop Lounge
A.S. Rao Nagar's very own party place, Up Bar is an airy rooftop with a breathtaking view of Moula Ali Hills. It's awesome to watch the sunset over the natural rock formations and the hill. If we were you, we'd already head out to make a time-lapse video. Also, this bar has delicious cocktails and finger food that you can devour.

Tank Bund
Have you ever watched the sunset behind the Buddha Statue? Nope? Oh god, you're missing out. Find yourself during the sunset hour at Tank Bund and take long walks as you watch the sun wash the sky in orange. Not a walking person? No problem, just stand and stare!
Khajaguda Hills
Go have a rocking time at Khajaguda Hills, just three kilometres away from Hitech City. Natural rock formations, boulders, and peacocks in the sight are a few things that define the hills. There's a dargah on top, and watching a sunrise or sunset here is not to be missed. It requires a basic trek and lots of photographers go here to practice photography or to perfect those drone photographs.

By The Bottle
As evening sets, By The Bottle is one of the coolest bars to find yourself at. The indoor seating is super noisy, so ditch that and go for the rooftop seating where you can watch the sunset and enjoy your drinks with pocket-friendly starters. With an awesome menu for happy hours where you can score drinks at INR 79 only, it really cannot get better than this.

Mahabodhi Buddha Vihara
One of Hyderabad's best-kept secrets, Mahabodhi Buddha Vihara is a Buddhist temple and monastery where you can go to meditate for hours together. Transporting you to the streets and monastery of Dharamshala, you can spend quiet time here and watch the sunset because it offers a lovely view of Secunderabad.

Birla Mandir
No travel tour is complete without a visit to Birla Mandir. Located in Khairatabad, this temple is built on a 280-feet high hill, making it visible from many areas of Hyderabad. This also means that the view from the top is fantastic. Go here on an evening, and come back through the lanes of Adarsh Nagar that sell bangles and fancy jewellery of all kinds.
Do note that mobile phones or cameras aren't allowed into the temple.

Osman Sagar Lake
Gandipet Lake (also known as Osman Sagar Lake), as we know, is a feast to one's eye in the evenings. Apart from being a photographer's paradise, it's a popular picnic spot, drawing crowds of all ages. So, if you want a lake view picnic, go here.
The Pasta Rasta
The Pasta Rasta in Jubilee Hills surprisingly offers a brilliant view of the city. Whether you are partying with your friends or out on a date, settle for the outdoor seating and take in the view. It's going to be memorable, we promise!
Comments