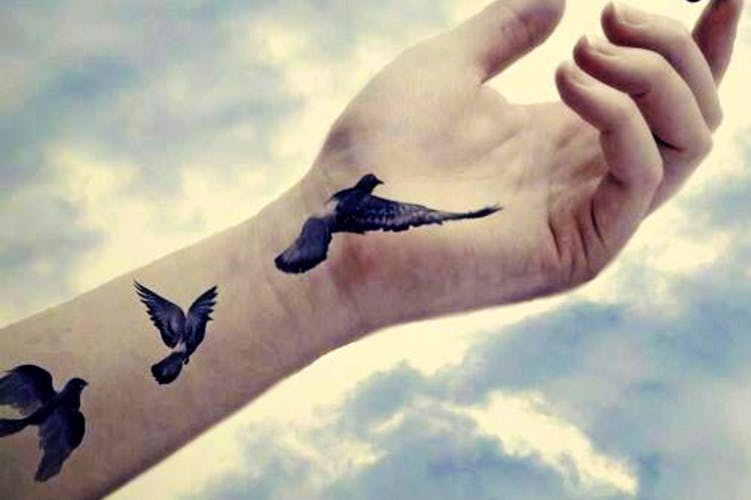 Simple Designs to Crazy Instagram Trends, These Tattoo Artists Are Ink-credible
Gone are the days when tattoos were stigmatised. A lot of millennials are getting beautiful body art and looking at it as a way of expression. So, whether you have been waiting to get one of your own ideas, a cover-up or a super-intricate design from Pinterest tattooed, here's where to go.
Koru Ink
Artist Subhojit Chakroborty established Koru Ink in Sindhi Colony, 10 months ago. Today, Koru is one of the most sought-after tattoo studios in town, specialising in realism, hyperrealism, abstract, freestyle, psychedelic, and visionary art. But that doesn't mean they won't cater to your small/minimalistic tattoo needs. They believe in making original artwork and custom pieces, so you can just go to them with an idea/concept, and get a beautifully crisp unique masterpiece done. However, we recommend that you hit them up at least two days prior to getting your tattoo done, so that they can work on your ideas better. The price begins at INR 2,500.
Angel Tattoo Studio
Headed by award-winning celebrity tattoo artist, Amin Sultan Hajiani — this tattoo studio is a popular choice among first times as well as people looking to widen their collection. With a team of 6 artists, this studio can ink your stories on to your body. We're absolutely digging their abstract piece and dotted geometric tattoos. The studio firmly states that quality is their first priority, and you can see it in their work. They are open on all days except Friday, so book your appointments now! The price range starts at INR 1,000.
Hakim's Aalim
This nation-wide recognised name also has a tattoo parlour in Banjara Hills. Owned by Aalim Hakim, this brand has spaces in Bengaluru, Mumbai, and Dubai as well. Here, you can get a complete make-over with a dashing haircut and a badass tattoo. No kidding! We also hear that a live DJ plays trendy music to set up the mood while you get a design to flaunt at this hip salon. The services cost INR 2,500 upwards.
Joysen Tattoos
Joy Sen moved to Hyderabad from Kolkata and started this tattoo parlour 12 years ago. Their forté is in shading, and water colour effect tattoos. However, they do portraits as well. A lot of people go here for their first tattoo and return again for more. Oh, just so you know, this is also a place where you can get rad piercings done. The price ranges at INR 500 per square inch.
Destino Tattoo Studio
If more simpler tattoos are your thing, heard to Destino Tattoo Studio. Artist Vijaya Durga turned her flair for drawing and painting into her profession and she's striving as a female tattoo artist in the city. Although Destino Tattoos is her own studio in Madhapur, she continues to tie up with popular salon Alexander, where she will be available on appointment basis. She does all kinds of tattoos, be it bespoke or standard with great care. If you're on a budget and need good value for money, we'd surely recommend this studio. (Give her a ring a day prior at least and note that the studio is closed on Mondays). The price ranges at INR 1,000 and upwards.
Comments