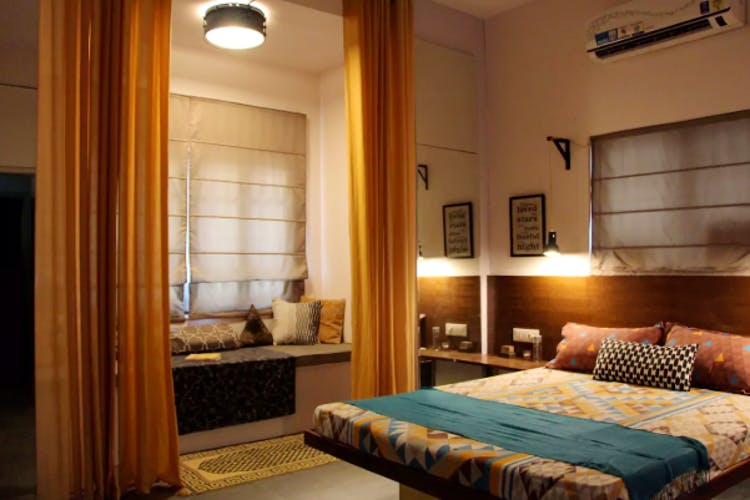 Pretty Window Seats, Floating Beds & Books: How Charming Is This AirBnB?
Shortcut
Want to channel your inner mojo and run wild with your creative spirits? This designer architected Airbnb with a jaunty decor and window seating is up for grabs and major inspo!
What Makes It Awesome
Subtle lights, unfinished brick walls, plenty of books define this three-bedroom loft that we are totes eyeing for our staycations. Or whenever our friends are in town (so, we can crash with them). Quite fanciful and cosy, the rooms come with a number of reading and mood light options. Want to go all cookie over a new graphic novel? Grab a seat by their window seating which offers a street view or head out to their common area to pick a book from thei collection. Resembling a plush apartment on the inside but whimsical on the outside, it's where art meets comfort. The living room is for Instagram fanatics for it's filled with potted plants, quirky paintings, maps on the wall, and paper lights. The shared kitchen nearly has the same decor and we surely wouldn't mind cooking here as it has colour coordinated crockery too. So easy on the eyes!
Wondering what could get better? On a good day, camels are out for a ride and you'd find them right near this stay. Now, this is a city safari we'd go all in for!
Pro-Tip
There's a grocery store right next door and you can run to Golconda Fort, Qutb Shahi Tombs which are just 2km away. The neighbourhood is surrounded by food courts and if you are craving biryani, dosa or shawarma, it's super easy to get the authentic best!
Comments